Baahubali star Anushka Shetty is loved for her beautiful screen presence but her latest pictures got the troll army active who did their best to fat-shame her. Here's how her fans sent love.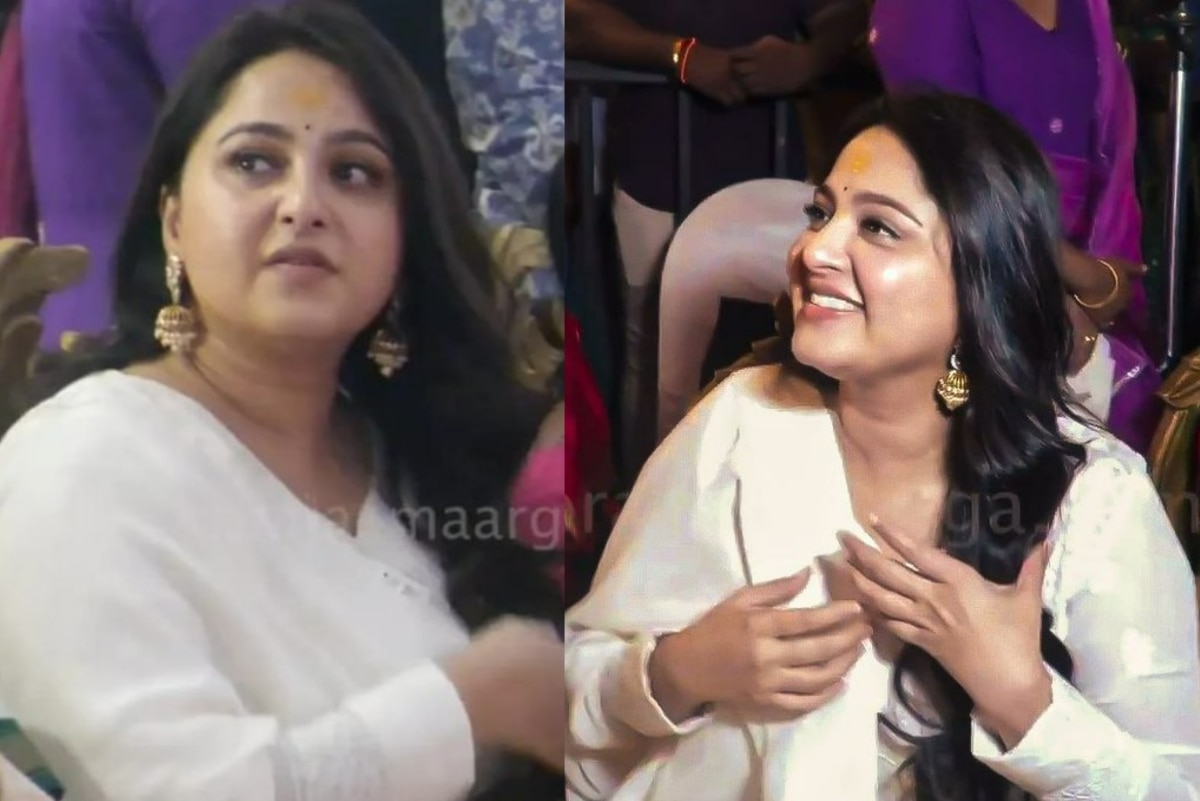 Anushka Shetty body shamed: Actor Anushka Shetty usually stays away from the limelight when not promoting her movies. The actor is currently shooting for a film directed by AL Vijay and she was recently clicked at an event celebrating Mahashivratri. Several pictures and videos from the same event went viral on social media and while Anushka looked delightful in a white traditional suit, a section of the fans began to fat-shame her.
ANUSHKA SHETTY IS BODY-SHAMED BY THOSE WHO WANT TO WOMEN FIT INTO CONVENTIONAL BEAUTY STANDARDS
The Baahubali star was spotted after a long time in random clicks and many fans sent her love on Twitter and Instagram. However, this latest look drew the attention of the trolls who highlighted how she doesn't look the same anymore. The people talked about her gaining some weight and not being able to match the brutal beauty stereotype that people usually want actresses to fit in.
Any woman, especially an actress, is largely expected to look slim, fair, tall, and curvaceous. So, when these misogynist beauty standards aren't matched, the troll army gets active on social media. Anushka was just the new victim. However, the actor also received immense love and support from her fans who appreciated her for looking like a real woman, who changes with age and definitely doesn't look the same all the time.
CHECK TWITTER REACTIONS TO ANUSHKA SHETTY'S LATEST PICS:
Anushka Shetty recent clicks. Lost all hope pic.twitter.com/6VTZvzsTxQ

— Kritifeed (@Kritifeed) February 18, 2023
Beauty is about being natural being yourself and if there's any actress who have power to hold this simplicity that's #AnushkaShetty ❤️ pic.twitter.com/8BwP7FKGgG

— Team Pranushka Official™ (@TPranushka) February 19, 2023
Ever gorgeous #AnushkaShetty pic.twitter.com/YphhYpEfeh

— ` (@Anvitasalaar) February 22, 2023
HER FACE CARD❤#AnushkaShetty pic.twitter.com/ITfVtKNeaN

— Anushk Shetty TM (@AnushkaShettyTM) February 19, 2023
My mom doesn't even know her and she saw her pic in my phone and told me she has such a "Lokkhi Thakur face" means her face looks like goddess Lakshmi Maa

I mean where is the lie?? She is literally an angel❤️

I love you my pretty woman @MsAnushkaShetty#AnushkaShetty pic.twitter.com/oSezrysMfG

— kanmani (@sarmi_mondal14) February 20, 2023
[LATEST] Sweety #AnushkaShetty today in Bangalore, celebrating #MahaShivaratri with her family! ❤️ ✨️#MahaShivratri2023#LadySuperstarAnushkaShetty pic.twitter.com/4BtRCQi4pa

— Anushka Shetty Fanclub™ (@sweetyanushkafc) February 18, 2023
SWEETY being SWEETY ❤️✨️#AnushkaShetty @guna_trueblue#LadySuperstarAnushkaShetty pic.twitter.com/FG6JgqK94p

— Anushka Shetty Fanclub™ (@sweetyanushkafc) February 21, 2023
She has the most beautiful smile..
Such a charming beautiful smile
Her smile can bright me up..✨✨#AnushkaShetty pic.twitter.com/vqVYcIKwDC

— Vaishnu (@VaishnaliS) February 21, 2023
Anushka, who was reportedly a yoga instructor, before she tried her hands in the films, is currently on a break but is silently shooting for her next film. The actor's pairing with Prabhas in the Baahubali series won her accolades and established her mass fan following. She will next be seen in a Telugu film tentatively titled 'Anushka48' alongside Naveen Polishetty and Koushik Mahata.
Your thoughts on Anushka's latest look?