Bigg Boss 16 fame Priyanka Chahar Choudhary is seen draped in a white bedsheet as she steps out of her bed and sips on her first morning coffee while gazing outside the window in a hot throwback video.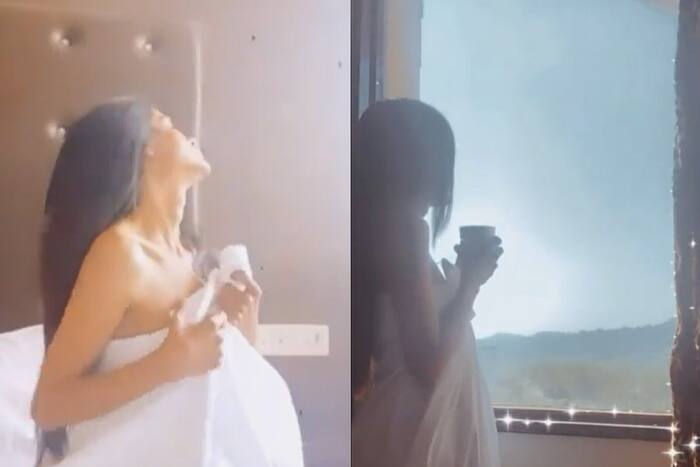 Priyanka Chahar Choudhary hot video: Actor Priyanka Chahar Choudhary is winning hearts every day even after stepping out of Bigg Boss 16 without winning the trophy. The actor has emerged as one of the most popular contestants of the season that ended last week with MC Stan as the winner. Her fans are constantly trying to dig for more information about her and the same search led them to this hot video that Priyanka had posted during the COVID-10 lockdown times.
The actor is seen wrapped in a white bedsheet in the video as she gazes at the fresh sunlight of the morning. Priyanka is looking sensuous in the video with a white sheet draped around her body and open hair caressing her back. She gets up from the bed and sips on her first cup of coffee and slowly sways towards the window with a beautiful view of the sunny day.
WATCH PRIYANKA CHAHAR CHOUDHARY'S HOT THROWBACK VIDEO IN BEDSHEET HERE:
Priyanka's fans are totally crushing over her with this video. It was posted by the actor on November 20, 2020, with the caption that read, "Things I enjoy with my morning coffee!! Soothing music and a beautiful view 🌸 (sic)."
Meanwhile, Priyanka is enjoying her newfound popularity after the latest season of Bigg Boss. The actor might have lost out on the trophy but she definitely received a lot of other opportunities including a special in host Salman Khan's heart who declared her the 'real winner' on the grand finale night the other day.
Priyanka was also reportedly in talks with the team of Shah Rukh Khan's Dunki for a special role. However, the latest reports have it that things haven't worked out yet. What are your thoughts on Priyanka's sensuous video in white bedsheet here?