Indian classical music maestro and Padma Vibhushan recipient Ustad Amjad Ali Khan recently spoke about South Korean boy band BTS.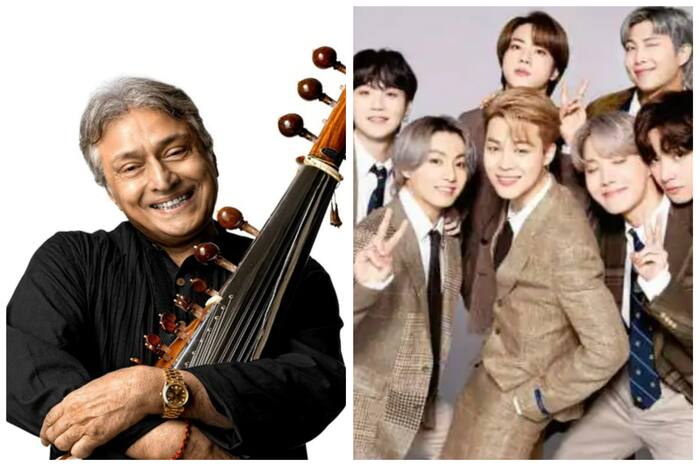 BTS Gets Praised by Ustad Amjad Ali Khan: BTS has made it big in the world of music and earned international acclaim and recognition. The boy band redefined the K-Pop scene as its won a loyalist fanbase worldwide nicknamed as ARMY or BTS ARMY. The Indian fans of the South Korean boy band are called BTS Indian ARMY. From youngsters to celebs, everyone is in awe of BTS. The members of the band Jin, Suga, J-Hope, RM, Jimin, V, and Jungkook are still hailed by their followers even after the band has been split. Now, in a recent interview they got recognition from none other than Indian classical music maestro and Padma Vibhushan recipient Ustad Amjad Ali Khan.
USTAD AMJAD ALI KHAN OPENS UP ON GRANDSONS ABEER, ZOHAAN AND BTS
In his interaction with DNA, the Sarod maestro revealed that his grandsons Abeer and Zohaan introduced him to BTS. He said "You see we are very fortunate that we are born into the Family of musicians and if the parents or the father or mother is a musician they push their child, I was 6 when I was pushed onto the stage, and not that I was a child prodigy, but it is just convention or tradition, they just want the child to feel the stage or feel the audience, it is an educational process." He further added, "This is the way Ayaan and Amaan were first introduced, they performed at the age of 5 or 4 and Abeer and Zohaan, are the children of the 21st century and connected with all kinds of gadgets, mobile but during the time of Covid, the schools of children were closed, Ayaan and his wife gave a lot of time to Abeer and Zohaan. Ayaan began teaching them and they started taking positive lessons from music. Though they were watching Michael Jackson and Justin Bieber, and today they showed me a video on face time and asked them 'Is this Justin Bieber?' They said 'no it is BTS' and I was not aware of it." Ustad Amjad Ali Khan pointed out, "Yes, I consulted and discussed with Ayaan and Amaan, I said 'what is this BTS?' Then I believe they are a Korean group, very talented."
The Sarod maestro will perform with his sons Amaan Ali Bangash and Ayaan Ali Bangash at Mumbai's Shanmukhananda Hall on the 16th of February 2023, as reported by DNA. Abeer and Zohaan will also be seen performing with them at the concert titled Three Generations, One Nation.
For more updates on BTS and Ustad Amjad Ali Khan, check out this space at India.com.