Shah Rukh Khan's alleged chats with Sameer Wankhede gets leaked. The chats show the superstar 'begging' to the NCB officer to 'go easy' on his son, Aryan Khan who was arrested in drug case in 2021.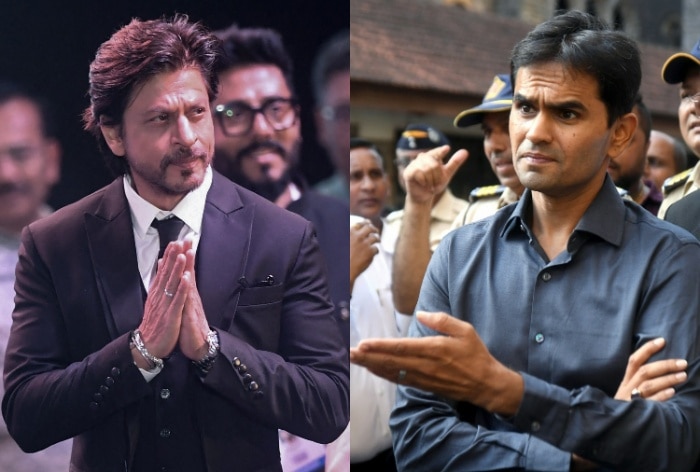 Mumbai: Shah Rukh Khan begs, requests, and asks for mercy in every possible way to Sameer Wankhede in his alleged WhatsApp chats from 2021. The superstar, who is celebrated as the King of Bollywood, writes long messages to the then Mumbai NCB Chief, asking him to go easy on his son, Aryan Khan, who was arrested in a drugs case in the year 2021. In the leaked WhatsApp chats, credited to Free Press Journal, SRK folds his hands, greets Wankhede, and writes to him from the deepest corners of his heart as the former NCB zonal director asks him to calm down and wait in response.
The leaked chats sprawl over a few days in which SRK even requests Wankhede to speak to him on call, or meet him. At one point, he also tells him that he is speaking like a father and expects Wankhede to understand his concerns as a father. Shah Rukh also requests him to not let politics attack Aryan. He further mentions that he has not given any statement in the media about the case and that should be seen as his cooperation in the case. Throughout their conversation on WhatsApp, the actor keeps writing heavy emotional messages, Wankhede simply keeps telling him that he's treating Aryan like his own son and wants him to become a better human being by the end of all this.
Read the alleged WhatsApp chats between Shah Rukh Khan and Sameer Wankhede in the Aryan Khan case:
SRK – Sameer sahib may I speak with you for a minute please. Regards shah rukh khan. I know this is officially inappropriate and maybe outright wrong but once as a father if I can speak with you. please. Love srk
Sameer – Pl call
SRK – Let me is it a good time to call just tried. Thank you
SRK – Can't thank you enough for all the thoughts and personal insights you gave to me about my own. I will make sure that he turns out to be someone that you and I are both proud of. This incident will prove to be a turning point in his life I promise, in a good way. This country needs honest and hardworking young people to take it forward. You and I have done our PARTS THE NEXT GENERATION HAS TO FOLLOW and it's in our hands to mould them for the future. Thank you once again for your kindness and support. Love SRK
Sameer – My wishes dear
SRK – Thank you. You are a good man. Please be kind to him today I request. Love SRK
Sameer – Of course don't worry
SRK – God bless you. I have to come personally whenever you say and give a hug to you. Let me please know whenever it's convenient for you. Really I have always had the highest regard for your uprightness and now it has increased manifolds. Big respect. Love srk
Sameer – Sure dear will catch up. Let this get over soon
SRK – Yes please help me in making it soon. Thanks
SRK –  I am going by what you said….I hope you feel my son has had the lesson you felt he should have had and henceforth he is able to build his life to be an upright hardworking young man towards a bright future. Thanks for all your kindness and care. ( sorry it's a late night message and I hope I am not disturbing you….but I was awake….naturally as a father ) Love srk
Sameer – Shahrukh he has been a good kid all the while and hope that he will for sure now be reformed a so enough counselled by me Hard days will be over soon
SRK – If in any way without losing your integrity as an officer of law, you can help with whatever manner possible please. I will always be indebted. I don't know the technicalities but if the department in charge feels all is ok and to your satisfaction…if then then your authority furnishes a 'short reply with whatever conditions your team may have. I promise you whatever cooperation you would need from him will be done to the best of his abilities. Just please consider this request favourably. It will be a huge favour because the family just wants him home, and not get stamped with having been a convict in a notorious prison. It will really help with his future and that's why I am making this, beyond reasonable request as a father. I hope you consider it please for his sake. Thanks again for everything. Love SRK—–
Sameer – Dear Shahrukh I empathise you as a father. Things will be fine SRK – Thank you so much. Love SRK
Sameer – (Thumbs up emoticon)
SRK – Please show some kindness my man. Love SRK. I can only plead and beg you as a father. Please.Wankhede: Dear Sharukh I wish I could talk to you as friend and explain you about the current situation and not as a zonal director, all the murk and unscrupulous elements are vitiating the entire atmosphere I wanted to look toward the kids in an reformatory approach and provide an opportunity for best living an national service. But unfortunately my attempt is being maligned by some dirty persons with malafide and vested interests.
SRK – But my son is not part of that please. You also know that. You know his part is minuscule in it. All he needs is reformation and for that he has had his quota and I will also follow suit with what we talked in terms of making him a better person. Please man I beg you there is nothing from my side that is participant in the vested interests. I went out if my way and without even knowing them called and begged them not to involve my child in their politics. The people here and also the person in the North. I spoke as a father to them and even chided them that they are harming my kid in their selfish interests. Please man don't make him pay for these assholes and vested people. I beg you man please. It's a larger thing my son and my family I swear play no part in it. I have even refrained from talking to anyone and even told all these foolish people not to speak on my behalf. When we speak I will tell you what I have done in my capacity not to hurt your drive to be upright. I swear man. Please I beg you.Get your guys to go slow for Gods sake. I swear I will stand by you for all times to come and assist you with what all you are trying to achieve good. It's a man's promise and you know me enough to know I am good for it. I beg you please have mercy in me and my family. We are a simple set of people and my son has been a bit wayward but he doesn't deserve being in a jail like a hardened criminal. You also know that. Please have a heart man please I beg you
SRK – Please call me and I will talk to you in my capacity as a father. Not any other way and you can hear from me that I mean every word I have said. You are a gentleman and a good husband and I am the same. I have to try and help my family wishing the bounds of law. I beg you man please don't let him be in that jail. These holidays will come and he will break as a human being.
His spirit will be destroyed because of some vested people. You promised you will reform my child not put him in a place where he may come out completely battered and broken. And it's no fault of his. As a good man why would you subject him to this for some selfish people doing what they are doing. I promise you I will go to them and beg them to not say another word in front of you. Will use everything my power to make sure they listen and retract whatever they have said. I promise you I will do all of it and won't shirk away from begging them to stop. But please send my son home. You also know in your heart it's been a bit too harsh for him by now. Please please I beg you as a father
Sameer – Sharukh I know you as a fine human being. Let's hope for the best.
Take care of yourself.
SRK – Please tell them to go easy man and let me get my son home. Please. There is nothing more I can say or do but beg you. PleaseYou have noticed my behaviour through all this. You know I would never stand by anything against what you are doing. I believed it when you said you are thinking of Aryan as your own and want to make him a better person. I haven't done anything to not help my son get that reformation. I haven't been in press. I haven't made a statement. I have just believed in your goodness. Please please don't let me down as a father. Please.
SRK – Would you speak with daughter please
SRK – I will make her call you just now. I promise you I will follow this on my own and get this person dealt with in the way he deserves. I promise just please be kind today. Bless you man
Please don't break our heart today my man. Please It's a father to father request I love my children just like you do yours and exterior forces cannot be allowed to cloud a father to father feeling please.I am a kind and gentle person Sameer please don't let my faith break in you and the system. Please it will shatter us as a family.Thank you for trying to help. Extremely grateful forever. Love srk
Sameer – Dear Shahrukh, it pains my heart too by recent developments. No one is happy and from our side no one deliberately wants to put Aryan in trouble dear trust me on that. There are certain technicalities in the law. I have also assured you that will not allow any rubbish person to spoil his case though they are trying a lot. I know where you are coming from emotionally. I would only want to tell you one thing here my dear, just have patience. This is going to be over soon.
SRK – Insha Allah. But I honestly feel you made the best effort in your official capacity and I do so too as a father. But sometimes our best is not good enough. Patience is paramount….thank you. Love srk
---
The chats get leaked amid the ongoing legal case in which Sameer Wankhede has been accused of trying to extort Rs 25 crore from Shah Rukh in the Aryan Khan case. The former NCB Zonal director moved to the Bombay High Court to quash the charges against him in the case. While the court has declined his plea, it has granted him protection against coercive arrest until Monday.
— the chats have been taken verbatim from Free Press Journal
$(document).ready(function(){ $('#commentbtn').on("click",function(){ (function(d, s, id) { var js, fjs = d.getElementsByTagName(s)[0]; if (d.getElementById(id)) return; js = d.createElement(s); js.id = id; js.src = "https://connect.facebook.net/en_US/all.js#xfbml=1&appId=178196885542208"; fjs.parentNode.insertBefore(js, fjs); }(document, 'script', 'facebook-jssdk'));
$(".cmntbox").toggle(); }); });



Source link