Twitter users create the funniest Hera Pheri 3 memes in response to the news of Akshay Kumar, Suniel Shetty, and Paresh Rawal's return in the comedy film.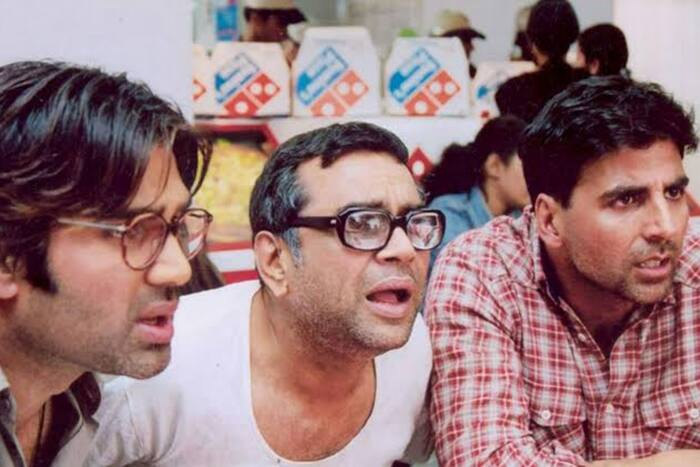 Hera Pheri 3:  The OG trio met to explore a potential comeback with Hera Pheri 3, according to recent reports. The third instalment of the comic franchise Hera Pheri, which stars Babu bhaiya, Raju, and Shyam, will reunite. Desis have swamped Twitter with hilarious memes to exhibit their excitement for Akshay Kumar, Suniel Shetty, and Paresh Rawal's comedy film. Khiladi Kumar, who had previously withdrawn from the film, is now thinking about hopping on the project. Fans have undoubtedly been anticipating the trio's comeback for Hera Pheri 3. One of the users said, "Mujhe film dekhni hai re baba." Another user wrote, "Raju is back." The third one wrote, "Paisa hi paisa hoga," with Akshay Kumar's GIF in reference to his dialogue from the movie.
CHECK OUT VIRAL, FUNNY HERA PHERI 3 MEMES
Only 1 tweet and #HeraPheri3 this trending
The day Hera Pheri 3 releases #AkshayKumar be like : pic.twitter.com/utYYKXytzS

— TA 💫 (@Tirlovesha) February 14, 2023
CAN'T WAIT. #HeraPheri3 @akshaykumar #ValentinesDay #14february #Herapheri #PareshRawal @SunielVShetty pic.twitter.com/wJPOZKaIAY

— Jeet Singh (@iJeet40) February 14, 2023
#HeraPheri3 #AkshayKumar #Herapheri @akshaykumar Mujhe filim dekhne ka hai re baba ✌️ pic.twitter.com/zt5d4Pu3dk

— Sancisco_ (@sancisco188) February 14, 2023
They: no one want hera pheri 3.
Me and whole india: #HeraPheri3 pic.twitter.com/9M0QQxMedW

— Aatif (@_lfc_aatif_) February 14, 2023
Great movies and all their parts are rare for any movie to be so good. One of the is #Herapheri https://t.co/iTeknHiMwf

— D_G- Remarques (@dmg3402) February 14, 2023
We millennials are so emotionally connected to Herapheri that we desperately want to see @akshaykumar back.
Ganapati bappa, please bring Akki sir back to #HeraPheri3. pic.twitter.com/GbsMiroyya

— Ashish Rai (@_ashishrai) February 14, 2023
#HeraPheri3 Canadian Kumar is back in #Herapheri franchise 😂😂😂 pic.twitter.com/2KNDtQEXVl

— ☿⊙❡€ⓢ♄ (Yoo Yoo) 👍😎 (@asliyooyoo) February 14, 2023
For the uninitiated, the Malayalam film Ramji Rao Speaking from 1989 was remade as Hera Pheri. The plot of the movie, which is regarded as one of the best Hindi comedies ever made, centres on two tenants named Raju and Shyam, as well as a landlord named Baburao. These three decent men who are struggling in life eventually become wealthy as a result of a bizarre turn of events involving a misdialed phone number and an evil kidnapping gone wrong.