Javed Akhtar was in Lahore, Pakistan when he addressed a gathering. A Pakistani national asked him about India's equation with his country and the poet reminded him about the 26/11 attacks. Check out the viral video here.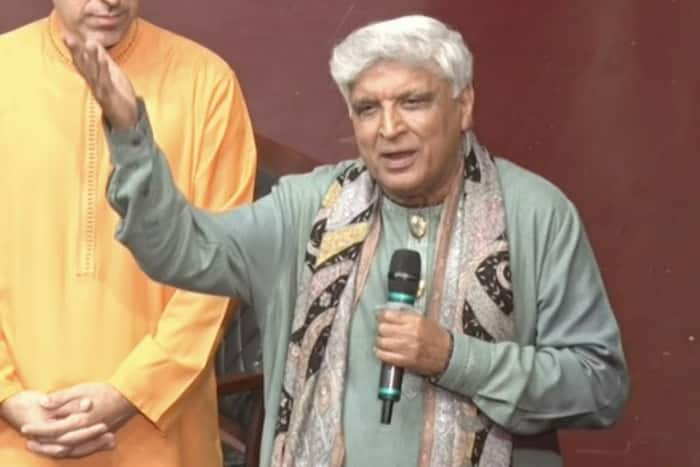 Javed Akhtar viral video: Lyricist and poet Javed Akhtar is drawing appreciation from all corners of the country for his statement at a Pakistan film festival. The popular film personality was in Lahore last week when he addressed a gathering and took people's questions about the equation between India and Pakistan.
WHAT JAVED AKHTAR SAID ABOUT 26/11 AT AN EVENT IN PAKISTAN
In a video that is now going viral on social media, Akhtar is seen telling a Pakistani national that Indians have not forgotten the 26/11 attack or how our artistes were treated in their country despite us showing a large heart everytime they visited us here. During a gathering at the event organised to honour Urdu poet Faiz Ahmed Faiz, Akhtar was asked, "You have visited Pakistan so many times. When you go back do you tell your people that these are good people, they aren't just bombing us but also greeting us with garlands and love (sic)?"
Answering the same, Jaadu, as he is lovingly called, said, "We should not blame each other. It will solve nothing. The atmosphere is tense, which should be doused. We are people from Mumbai, we have seen the attack on our city. They (attackers) did not come from Norway or Egypt. They are still roaming free in your country. So if there is anger in the Hindustani's heart, you can't complain (sic).
WATCH JAVED AKHTAR'S VIRAL VIDEO FROM PAKISTAN HERE:
Javed Akhtar in Pakistan
Sirf ek shayar hi avaam aur hukmurano se aankhen mila kar sach bol sakta hai phir vo chaahe apni ho ya pados ki pic.twitter.com/Lt8z2mt2ar

— RJ Fahad (@rjfahad) February 21, 2023
Akhtar also questioned the Pakistani gathering about not opening their hearts to the Indian artistes the way we did in India. He said, "When Faiz Sahab visited, he was received like a very important visitor. It was broadcast all over. We hosted big functions of Nusrat Fateh Ali Khan and Mehdi Hasan. You (Pakistan) never organized a function for Lata Mangeshkar (sic)?" The poet attracted claps and cheers from the gathering for his statements.
KANGANA RANAUT REACTS TO JAVED AKHTAR'S VIRAL VIDEO FROM PAKISTAN:
In a rare moment, actor Kangana Ranaut took to Twitter to praise poet Javed Akhtar after his video from Pakistan went viral on social media. The actor took to Twitter on Tuesday noon and shared the poet's video, and praised his statement as he reminded the Pakistani citizens about the ghastly 26/11 Mumbai attacks at an event in their country.
In a long tweet, Kangana said she would always wonder about Akhtar being so blessed by Goddess Saraswati and it was only after this incident that she realised why did he have Her blessings. The Thalaivi star wrote, "Jab main Javed saab ki poetry sunti hoon toh lagta tha yeh kaise Maa Swarsati ji ki in pe itni kripa hai, lekin dekho kuch toh sachchai hoti hai insaan mein tabhi toh khudai hoti hai unke saath mein … Jai Hind @Javedakhtarjadu saab… Ghar mein ghuss ke maara .. ha ha (sic)."
Jab main Javed saab ki poetry sunti hoon toh lagta tha yeh kaise Maa Swarsati ji ki in pe itni kripa hai, lekin dekho kuch toh sachchai hoti hai insaan mein tabhi toh khudai hoti hai unke saath mein … Jai Hind @Javedakhtarjadu saab… 🇮🇳
Ghar mein ghuss ke maara .. ha ha 🇮🇳🇮🇳 https://t.co/1di4xtt6QF

— Kangana Ranaut (@KanganaTeam) February 21, 2023
CHECK HOW NETIZENS REACT TO JAVED AKHTAR'S VIRAL VIDEO FROM PAKISTAN:
शानदार @Javedakhtarji बहुत खूब… #JavedAkhtarInPakistan#javedakhtar pic.twitter.com/Gv8LlchUeg

— Rahul Kumar (@I_am_Rahul_4U) February 21, 2023
कहन में आँसू से भी गहरी अवस्था का नाम है "शायरी"!
तल्ख़ हालातों के बावजूद भी एक शायर लाहौर जाकर अपने ख़म को कह देता है, और लोग उसे Warm Greetings के साथ स्वीकार करते हैं. यह तमीज़ सिर्फ साहित्य को हासिल है, सियासत को नहीं.
जिंदाबाद @Javedakhtarjadu साहेब!#JavedAkhtarInPakistan pic.twitter.com/45qFPemKWm

— Adarsh kumar (@a0darsh) February 21, 2023
Javed Akhtar In Pakistan!pic.twitter.com/GmEZIhhPCs

— My Vadodara (@MyVadodara) February 21, 2023
नफ़रत हो जायेगी तुझे अपने ही किरदार से,
अगर मैं तेरे ही अंदाज में तुझसे बात करुं।

घर में घुसकर धो डाला जावेद साहब ने !!
#JavedAkhtarInPakistan @Javedakhtarjadu

— Ravindra Bisht | रविन्द्र बिष्ट (@RavindraBishtUk) February 21, 2023
घर में घुसकर मारेंगे किसे कहते हैं,
जावेद अख्तर ने नवाज शरीफ के बिन बुलाए 56 इंच मेहमान के लिए मिसाल कायम करी#javedakhtar#JavedAkhtarInPakistan#FaizFestival2023 pic.twitter.com/SYpJj6UNjv

— त्रिनेत्र (@misrashutosh) February 21, 2023
वाह! शानदार @Javedakhtarjadu बहुत खूब… #JavedAkhtarInPakistan pic.twitter.com/snbXKCKmGf

— Dr. Syed Rizwan Ahmed (@Dr_RizwanAhmed) February 21, 2023
Javed Akhtar in Pakistan
Sirf ek shayar hi avaam aur hukmurano se aankhen mila kar sach bol sakta hai phir vo chaahe apni ho ya pados ki pic.twitter.com/Lt8z2mt2ar

— RJ Fahad (@rjfahad) February 21, 2023
#JavedAkhtar actually does a surgical style in a way only a poet can. #JavedAkhtarInPakistan #viral #viralvideo #video @Javedakhtarjadu pic.twitter.com/X0G1iShdUj

— Vineeta Kumar (@vineeta_ktiwari) February 21, 2023