Kangana Ranaut recently came forward in defence of Nawazuddin Siddiqui after his ex-wife Aaliya locked him out of his home.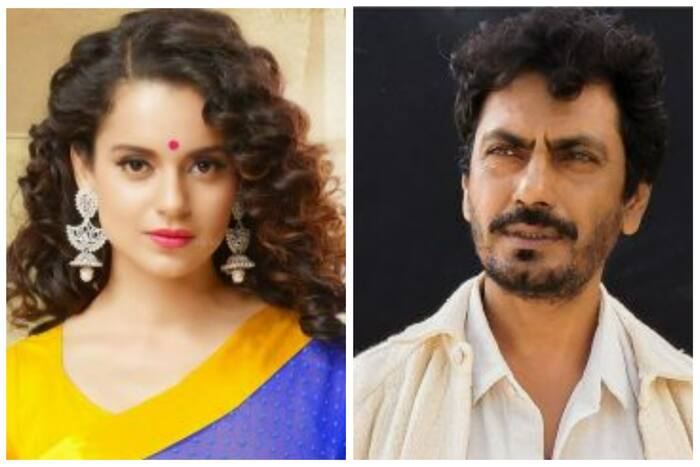 Kangana Ranaut Defends Nawazuddin Siddiqui: Kangana Ranaut is on fire on social media today. After taking a sly dig at Aamir Khan's video from Shobha De's book launch event, the actress once again jumped into a controversy. Amid the ongoing legal tussle between Nawazuddin and his wife Aaliya, Kangana defended the actor. She took to her Instagram stories and shared the video where Aaliya locked Nawazuddin outside his house. In her emotional note, the Emergency actress wrote, "This is so painful to watch…Nawaz sir is being humiliated like this outside his home…he gave his everything to his family, he stayed at a rented place for several years..he used to take a rickshaw to TWS shoot. Only last year he bought this bungalow and now his ex-wife came to claim it..so sad."
CHECK OUT KANGANA RANAUT'S INSTAGRAM STORY:
KANGANA RANAUT PENS EMOTIONAL NOTE AMID NAWAZUDDION'S LEGAL DISPUTE WITH EX-WIFE
Kangana also added in another post, "Whatever Nawaz sir earned till date, he gave to his brothers), ex-wife who he divorced many years ago, they were Co-parenting kids she was living in Dubai with children, he even bought her a flat in Mumbai… and he bought a Bangalow for his mother, he took many house designing tips from me, we were so excited, we did house warming party in this house together." She also pointing out, "I never met the ex-wife but now suddenly she has taken over the Bangalow and not allowing him to enter, I just saw he is standing on the road and she is making videos of such a big star, what wickedness is this, I feel like crying… it's not easy to make money from acting jobs, actors work very hard, how can she just decide to keep the house and lock him outside like that."
CHECK OUT KANGANA RANAUT'S VIRAL POSTS:
KANGANA RANAUT SAYS NAWAZUDDIN SIDDIQUI'S EX-WIFE IS BULLYING HIS AGED MOTHER
Kangana concluded as she opined, "I want to request concerned authorities she should be sent to her apartment immediately the one Nawaz sir has bought for her in Everest apartments and from there she can settle legally whatever her demands are, she can't bully Nawaz saab old mother who is still locked inside the Bangalow and waiting for her son and her son the owner of the house who ex-wife not allowing to come inside, they are divorced for many years now she has no right on his properties… and she can most definitely not defame him by making secret videos of conversations and release them out of context in bits and pieces so that he even fears coming home….this is so wrong…"
Kangana has produced Nawazuddin starrer Tiku Weds Sheru. The actress is also portraying Indira Gandhi in her directorial Emergency.
For more updates on Kangana Ranaut, check out this space at India.com.