Kangana Ranaut recently warned right wing against trolling 'RRR' director SS Rajamouli and defended his remarks on religion.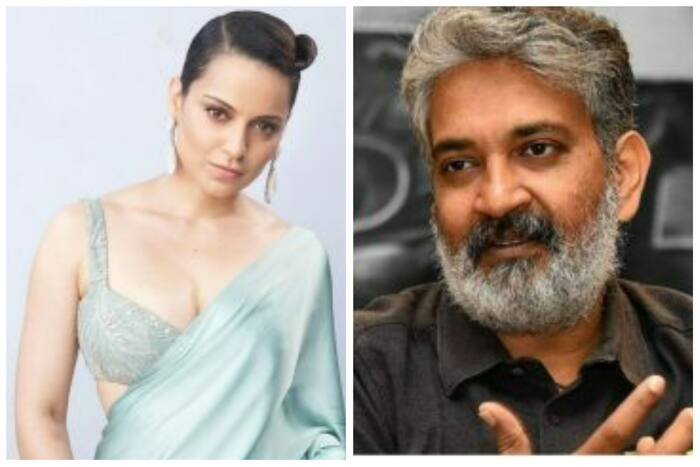 Kangana Ranaut Warns Right Wing Against Trolling Rajamouli: Kangana Ranaut is on fire with her feisty persona taking over social media. The actor took the internet once again by storm with her bold and fearless remarks against Shiva Sena leader Uddhav Thackeray and right wing. As the Election Commision of India recently ruled that Shiv Sena symbol of bow and arrow will remain with Maharashtra Chief Minister Eknath Shinde's faction. As netizens brought Kangana's older tweet where she had said, "The one who kills saints and insults women, his downfall is certain," the actor said it's just common sense. Now, she has once again come forward in defence of SS Rajamouli over his remarks on religion. She warned right wing against trolling Rajamouli and called him 'a yogi of highest order'".
CHECK OUT KANGANA RANAUT'S VIRAL TWEETS: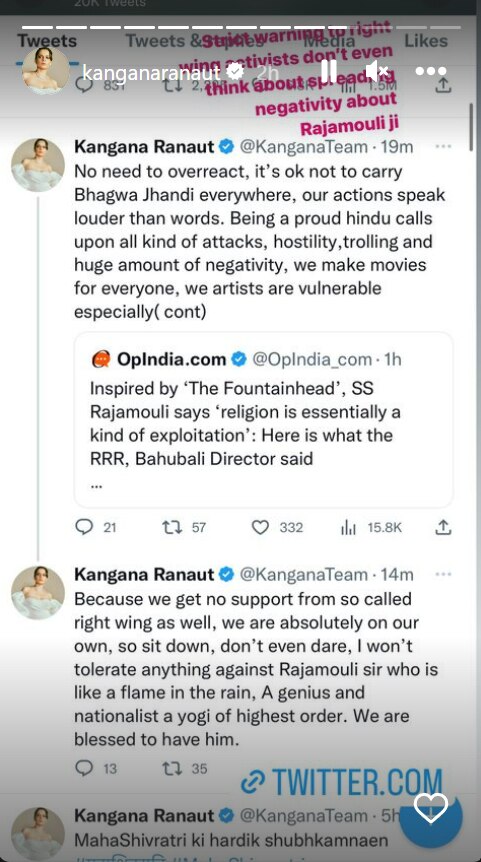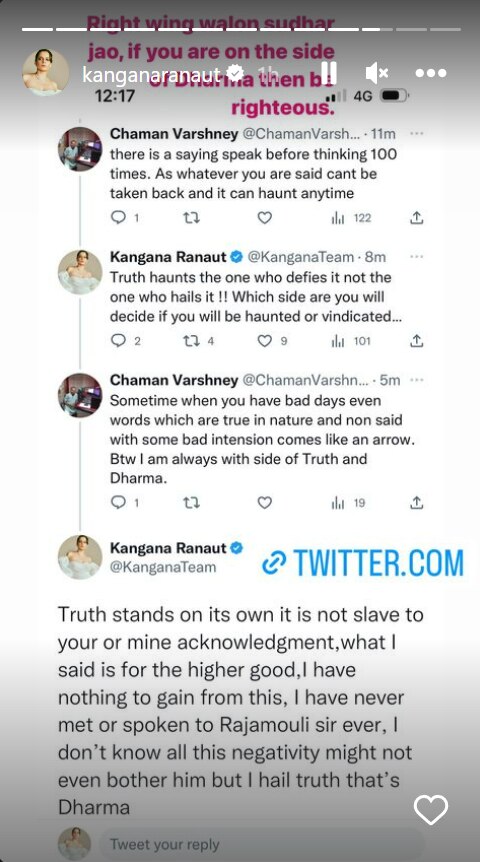 SS RAJAMOULI OPENS UP ON RELIGION AND PHILOSOPHY
In an interaction with The New Yorker, Rajamouli had said, "I worked under a cousin of mine [the Telugu writer Gunnam Gangaraju] for a few months. He introduced me to Ayn Rand's The Fountainhead and Atlas Shrugged. I read those novels and was greatly inspired by them. I didn't understand a lot of her philosophy, but I understood the basics of it. It was around that time that I slowly started moving away from religion. Even at that time, my love for stories like the Mahabharata or the Ramayana never diminished. I did start pushing away from those texts' religious aspects, but what stayed with me was the complexity and the greatness of their drama and storytelling."
CHECK OUT KANGANA RANAUT'S TWEETS ON RAJAMOULI: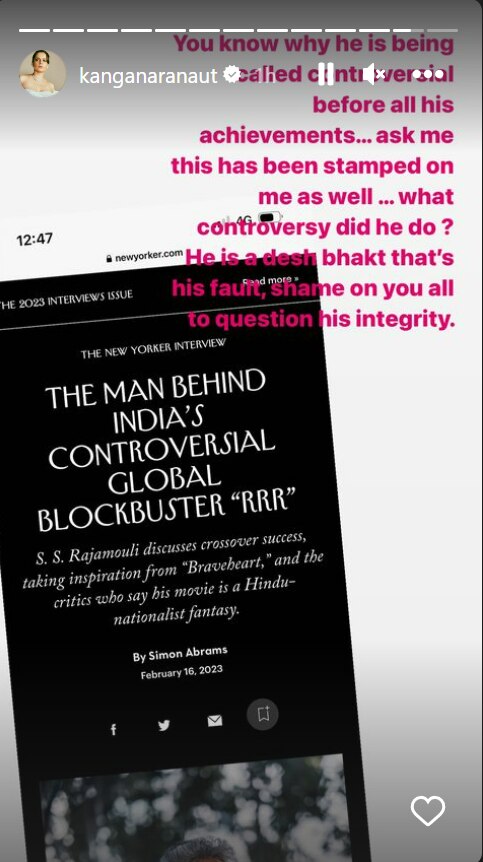 KANGANA RANAUT CALLS RAJAMOULI A GENIUS NATIONALIST AND YOGI
As a section of netizens started trolling the RRR director and took offense over his remarks, Kangana came to his support. Kangana captioned her tweets as, "No need to overreact, it's ok not to carry Bhagwa Jhandi everywhere, our actions speak louder than words. Being a proud hindu calls upon all kind of attacks, hostility, trolling and huge amount of negativity, we make movies for everyone, we artists are vulnerable especially because we get no support from so called right wing as well, we are absolutely on our own, so sit down, don't even dare, I won't tolerate anything against Rajamouli sir who is like a flame in the rain, A genius and nationalist a yogi of highest order. We are blessed to have him." Replying to a netizen she opined, "Truth stands on its own it is not slave to your or mine acknowledgment, what I said is for the higher good, I have nothing to gain from this, I have never met or spoken to Rajamouli sir ever, I don't know all this negativity might not even bother him but I hail truth that's Dharma."
Kangana will portray an Air Force pilot in Tejas. She will also essay the role of former Indian Prime Minister Indira Gandhi in her directorial Emergency.
For more updates on Kangana Ranaut and SS Rajamouli, check out this space at India.com.