SS Rajamouli's RRR wins the Best Stunt Award at the Hollywood Critics' Association Awards and the director mentioned his country in a beautiful speech in a room filled with biggies representing international cinema.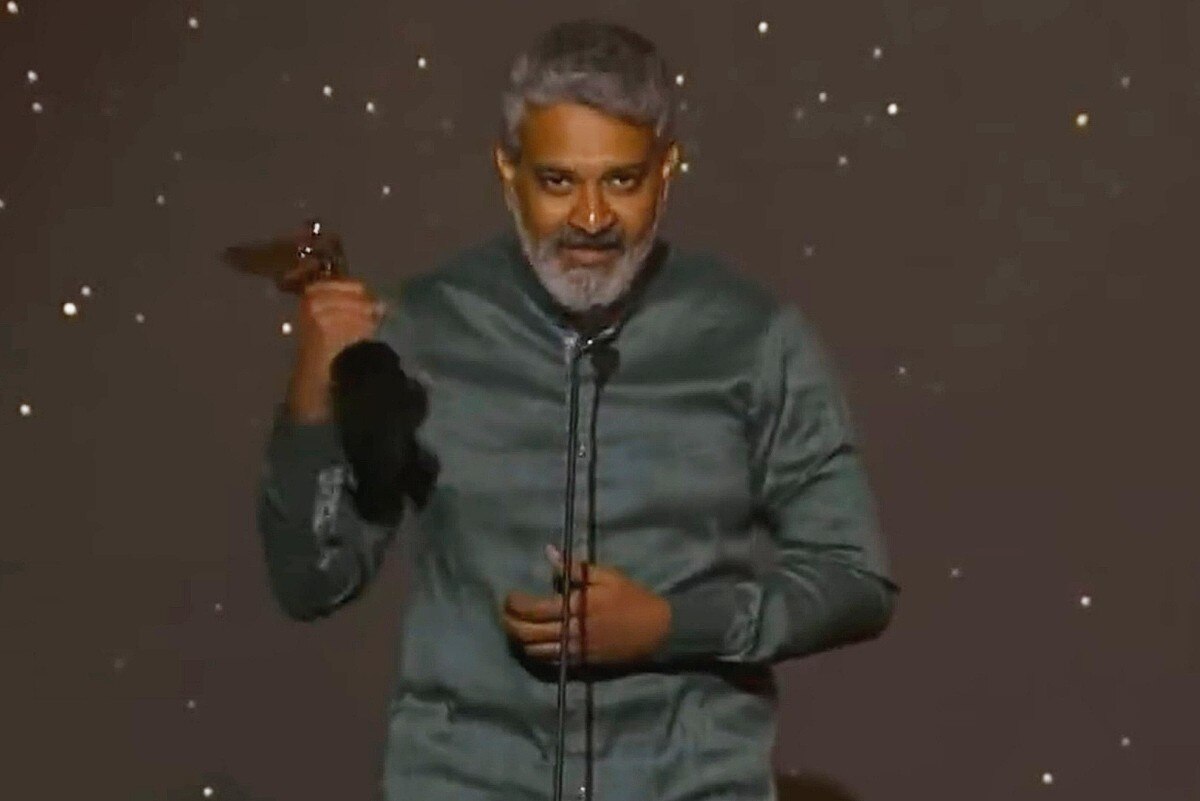 SS Rajamouli's Acceptance Speech at HCA: RRR is making India proud for almost a year now. The film hit the screens on March 24 last year and has been unstoppable ever since. Directed by SS Rajamouli, RRR has now won three major trophies at the Hollywood Critics Association Film Awards (HCA) in a ceremony held on Friday evening.
The news was shared by the official Twitter handle of HCA and reposted by the official handle of the film's team online. As Rajamouli took over the stage after winning the Best Stunts Award for the film, he didn't forget to mention his country – India – and called it the land of cinema, subtly highlighting how we are the biggest cinema-producing country in the world.
RRR WINS BEST ACTION FILM, BEST INTERNATIONAL FILM, BEST STUNTS, AND BEST ORIGINAL SONG AWARDS AT HCA
The video that is going viral on social media shows Rajamouli's entire acceptance speech. He says, "A big thank you to all the members of the Hollywood Critics Association (HCA) who thought RRR had the best stunts. Thanks, a lot. I must first thank my choreographer who has put in lots of effort to execute all the stunts. Juji [stunt master] helped them with some of the climax action sequences. And, to all the other choreographers who worked really hard and came to India and understood our vision. They changed their working style to suit our working style and delivered what we had today (sic)."
"Mera Bharat Mahaan," says SS Rajamouli during his acceptance speech at HCA
The popular director goes on to thank his 'wonderful' actors and says, "In the innumerable action shots in the whole film, there were hardly 2-3 shots where we used body doubles. The actors performed each and every stunt. They are wonderful guys. It is the combined effort of the whole team. I thank my whole team for this. We have put in 320 days of hard work to make this film, most of which were taken by the stunts. And, this recognition means a lot not just to me and my film but to the Indian film industry. Hope, we have these wings to fly further (sic)."
"And lastly, to my country itself, a land of wonderful stories – Bharat. Mera Bharat Mahaan, Jai Hind!" he concludes. Watch the full acceptance speech of Rajamouli from the HCA Film Awards here:
How I so want to hear him saying the same "Mera Bharat Mahaan, Jai Hind" on the #Oscars stage! Congratulations team #RRR once again!
.
.
.#SSRajamouli #RamCharan #JrNTR #HCA #HCAFilmAwards #Rajamouli #RRRMovie #RRRForOscars @RRRMovie @ssrajamouli pic.twitter.com/w213jMiVtW

— Vineeta Kumar (@vineeta_ktiwari) February 25, 2023
Rajamouli's speech met with loud claps and cheers from the crowd. The filmmaker was accompanied by Ram Charan and other members of his team at the event.
Meanwhile, people back at home, are waiting for the director and his team to fetch an Oscar for us and put India on a global map like never before. RRR has been nominated in the Best Original Song category at the Oscars this year. The ceremony will take place in Los Angeles on March 13.