Mumbai Traffic Police shared the picture of Kartik Aaryan's Lamborghini car on their Twitter handle along with a quirky caption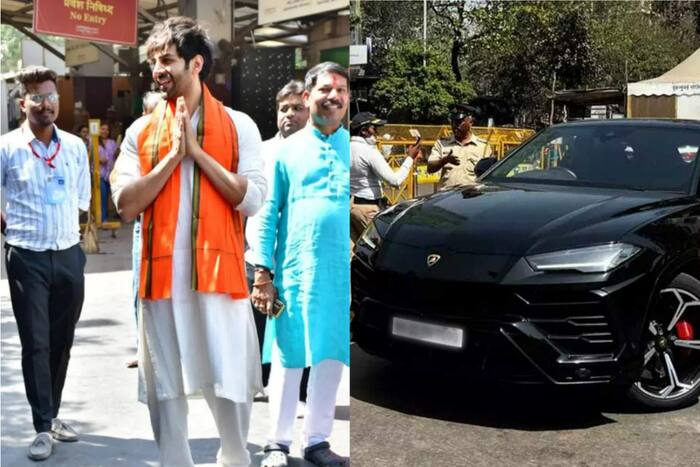 Mumbai: Actor Kartik Aaryan recently visited Siddhivinayak temple to seek blessings for his movie Shehzada but he got into trouble by parking his car in the no-parking zone. Mumbai traffic police issued a challan to Kartik for parking his car on the wrong side. They shared the picture of Kartik's Lamborghini car on their Twitter handle along with a quirky caption, "Problem? Problem yeh thi ki the car was parked on the wrong side! Don't do the 'Bhool' of thinking that 'Shehzadaas' can flout traffic rules."
Problem? Problem yeh thi ki the car was parked on the wrong side!
Don't do the 'Bhool' of thinking that 'Shehzadaas' can flout traffic rules. #RulesAajKalAndForever pic.twitter.com/zrokch9rHl

— Mumbai Traffic Police (@MTPHereToHelp) February 18, 2023
Although the traffic police blurred the number plate of the actor's vehicle, but despite this the number plate of the vehicle can be clearly seen. Kartik parked his car in the no parking zone, due to which the police issued a challan to him. The police did not shared details about how much the challan was.
Mumbai Police used the names and dialogues of Kartik's films to spread awareness among the common people.
They mentioned, Kartik's blockbuster movie Bhool Bhulaiyaa 2 and his recently released 'Shehzada' but his name was not mentioned in the tweet by the police. A traffic officer said that whoever has a vehicle, even if it is an actor, if the vehicle is parked in no parking zone, the police will do its job.