Singer Sonu Nigam and his team were allegedly attacked at a concert in Mumbai on Monday night by an MLA's son. The video of the incident is going viral on social media. Here's what exactly happened at the event.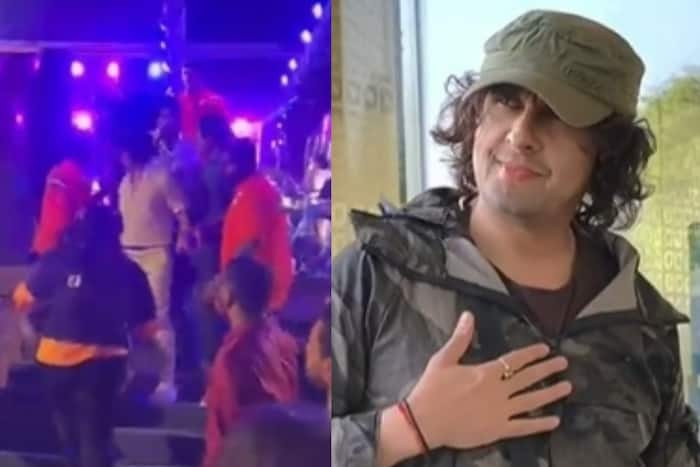 Noted singer Sonu Nigam was pushed and his two colleagues were allegedly manhandled by the son of an MLA during a scuffle overtaking a selfie with the singer at a musical event in Mumbai, police said on Tuesday. A colleague of Nigam was injured in the incident which took place at Chembur Gymkhana on Monday night after the singer's live performance, an official said.
VIRAL VIDEO OF SONU NIGAM BEING MANHANDELED AT CONCERT
A video of the incident later surfaced on social media platforms. Based on a complaint filed by Sonu Nigam, the Chembur police registered an FIR against Swapnil Phaterpekar, the son of local Shiv Sena MLA Prakash Phaterpekar, under Indian Penal Code Sections 323 (voluntarily causing hurt), 341 (wrongful restraint), and 337 (causing hurt by act endangering life or personal safety of others), the official said.
According to Nigam's complaint, he and his colleagues were leaving the stage after the performance when a man, later identified as Swapnil Phaterpekar, came from the back and caught hold of the singer. The accused apparently wanted to take a selfie with the singer.
COMPLAINT AGAINST THE MAN WHO CREATED RUCKUS AT SONU NIGAM'S CONCERT
As per the complaint, Nigam's colleague Hari Prakash tried to stop the accused and took him aside. However, the accused allegedly manhandled Prakash due to which he fell down from the stage, the official said quoting the complaint. The accused then pushed Nigam due to which he also fell on the stairs, as per the complaint.
When Nigam's other colleague Rabbani Khan came forward to help him, the accused allegedly manhandled him also. Khan, too, fell down, said the complaint. The support staff present near the stage then came forward and stopped the accused, an official from Chembur police station said.
ACCUSED APOLOGISES TO SONU NIGAM AND HIS TEAM
Khan, who received injuries, was taken to a private hospital in Chembur, he said. Nigam went to the Chembur police station in the early hours of Tuesday, recorded his statement, and filed a complaint against the accused, the official said, adding a probe was underway into the case.
Later, the accused's sister in a tweet said on behalf of the organisers, they have officially apologised to Nigam and his team for the unpleasant incident. She said while Nigam was being hurriedly ushered off the stage after delivering his performance, her brother was trying to take a selfie with the singer. "Due to the rush & furor, there was a commotion that ensued," she tweeted.
— with inputs from PTI