Here are some pawsome pro tips to ensure that you and your dogs have a wholesome winter.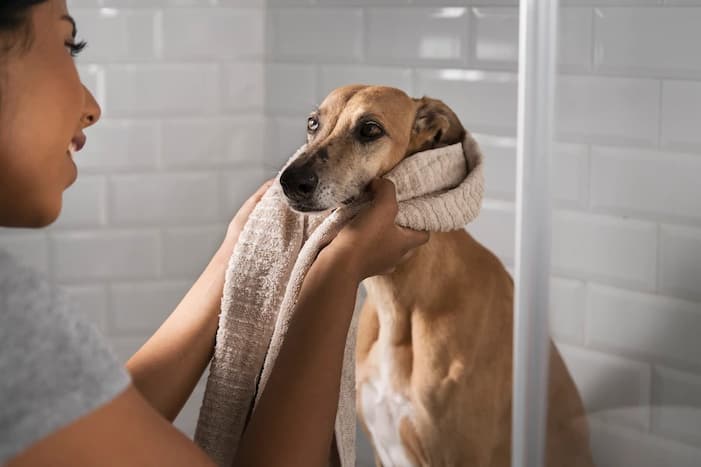 Winter season calls for extra attention to your pet's grooming and hygiene habits. Keeping dogs healthy in the winter isn't just about keeping them warm with clothing. It's about their sleeping arrangements, winter allergies, adjusting dietary plan, how the dry air will affect their skin and lastly, paw protection. Keeping aside the various misconceptions around your pet's winter requirements, Poorvi Anthony, co-founder of JustDogs is here to give you some pawsome pro tips to ensure that you and your dogs have a wholesome winter.
6 Grooming Tips to Keep Your Dogs Healthy in Cold, Wet Months
1. Regular Baths
It is often misunderstood that your dog may not enjoy or require regular baths during the cold winter season. However, dogs are perfectly capable of surviving colder temperatures and may simply be given winter-proof baths. Always use hot water and completely blow-dry your pets' coats to avoid the cold becoming a problem for them during winter. Avoiding frequent washes for your pets can cause skin infections, hair matting, and other problems. It is crucial that you make your spa appointments and regularly bathe your dogs.
2. Coat Care
During the winter, caring for your dog's coat is equally important. From making sure your dogs receive proper care for their brand-new winter coats to routine brushing to prevent matting and tangles. Regular brushing also makes pet parents aware of any bumps, lumps, or infections on their dogs' bodies allowing you to take the right course of action when needed.
3. Skincare
Dogs' skin may get extremely dry in the winter, just like ours can. Your pets may experience severe discomfort and itching as a result of this issue. The greatest solution for any dry skin concerns is to use specialized, more moisturizing shampoos and conditioners. Your pets can also receive Omega 3 and Omega 6 supplements to support healthier skin.
4. Protecting the Paws
Sometimes it is necessary to shield your pet's paws from the icy, dry air in extremely cold climates. An excellent option to keep your dogs' delicate paws warm throughout these months is to experiment with dog boots. Grooming your dogs' paws well is also beneficial because neglecting them might result in infections and harm to your dogs' health.
5. Flea Problems
Fleas and other parasites can still affect your pets even in the cold months and dogs must be groomed regularly even in winter to prevent any parasitic problems.
6. Freshening Pet-Wipes
Wintertime bathing is vital, but occasionally going overboard can be problematic. Even if they are kept out of cooler water, with proper care, your pets' coats will stay clean and odor-free. Cleaning up after your dog is muddy from digging in your garden or enjoying a nice roll in the mud is essential. Pet wipes are the ideal solution in these instances! Just give your dog a thorough washing with a pet wipe to provide him the best possible hygiene.
With the help of these tips, you can now have the most holly-jolly winter with your dogs. Winter never sounded better!