Valentine's Day 2023: Best Romantic Cafes And Restaurants in Mumbai That You Need to Give a Try With Your Lover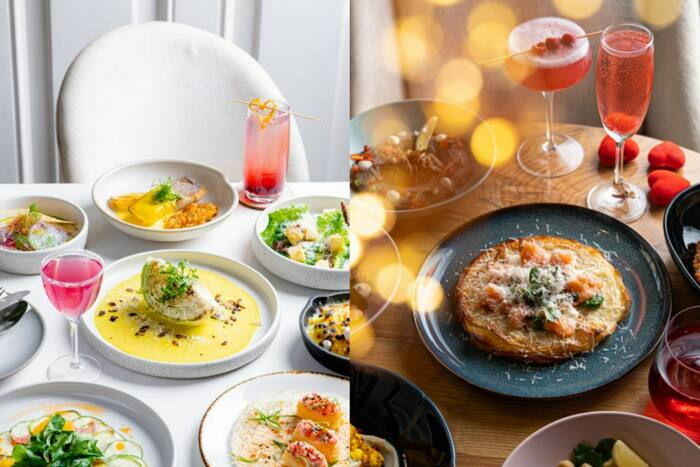 Valentine's Day 2023 romantic cafes, restaurants: is all about showering your love on your partner and what better than taking them out for a romantic dinner? The way to his or her heart is through the stomach. Is that so? Well, if you're looking to surprise your significant other by making reservations for a romantic lunch or dinner date, then we have got your back.
Neuma, Colaba: This Valentine's Day, Neuma, a modern European restaurant in the heart of Bombay, with International Chef Jason James Hudanish come together to enchant you with a uniquely curated selection of delicacies with flavours that are rooted in Latin culture and exported to Miami. Bringing authenticity with him, Chef Jason's unique menu explores delicacies composed of seafood, vegetables, and red meat. Specialty dishes like Zucchini Carpaccio, Mole Amarillo Roasted Cabbage, Flan De Mango, and more will be key highlights of the night with a special focus on the chef's recommendation to take it up a notch. Experience the White Surprise, covered with Strawberry Gel, Coconut Gelato, and Lemon Gel. Chef Jason's curations at Neuma are a perfect amalgamation of culture, aroma, indulgence, and everything in between. Join us for a day of celebrating love with a gastronomical affair!
One8 Commune, Juhu: Any special day calls for a unique moment to capture the memories with! This Valentine's Day, one8 Commune is ready to bring an experience that will drift you in the Mediterranean waters with its one-of-a-kind spread. Bringing the oceanic flavours to Bombay, Chef Viraf Patel is bringing his acclaimed culinary expertise through carefully conceptualized and thoughtful delicacies highlighting the bold, rich and vibrant flavours inspired by the Mediterranean region. The one day pop-up will feature 20 ingredient forward delicacies that have been derived from the past and twisted for today's age and time! From experiencing the smokiness of the Charred Little Carrots, to the aroma of King Oyster Mushroom Ajillo, and relishing the Ras Al-Hanout Baked Salmon, to a lot more, there is something to satiate everyone's palate. To strike a balance of flavours, Chef Viraf's curations of Chocolate Crème Brulée, Vegan Cashew & Agave Mousse, and Rose Water Muhallabieh are the epitome of thoughtfulness, of course with a glass of wine!
Amazonia, BKC: Would you like to celebrate Valentine's Day at a place that takes after the Amazon rainforest itself? Then you better make the most of the day at Amazonia. The menu is divided into Japanese, Korean, Thai and Italian including salads, grills, sushi, bites, fish and meat, and encourages experimentation and sharing – satiating the pickiest of appetites. Plus, you get a Valentine special complimentary dessert to celebrate the occasion. Amazonia is a welcome addition to the ever-growing BKC foodie scene, so get a table quickly, if you can!
Blue Bop, Khar West: If you are looking to have an extensive meal with your partner and a memorable experience, then Blue Bop is the place to be. For Valentine's special, they have a specially curated menu that includes Love Stuffed Cheese Mushrooms, Heart Shaped Love Garden Pizza, Love Pepperoni Pizza, Heart Shaped Ravioli, Loaded Truffle Fries, and many more. To balance this out in desserts they have Struck On You Cakesickles, Magical Churros & Love Rush Strawberry Cream Tart. As for cocktails, some of their in-house classics include Love Struck, Burning Love & Candy Floss Sparkle Martini. So this Valentine's Day, have a blast while feasting on some of these amazing dishes!
The Game Ranch, Powai: If you are ready to get bowled over with a delicious full strike, then The Game Ranch experience is open for a wild time. Celebrate this day at this one-of-a-kind, countryside-themed restaurant and gaming lounge. This Valentine's enjoy a Wild West Platter that includes Elderflower, Raspberry & Grapefruit Gimlet, Kung Pao Potato, Tempura Fried Prawns, Veg Thai curry with steamed rice, Penne Pasta Chicken, Raspberry flavoured chocolate mousse and many more. What better place than The Game Ranch to spend some great time with your partner and make their Valentine's special!
Donna Deli, Bandra: Add the perfect touch to your Valentine's Day meal with the V-Day menu at Donna Deli. Heart shaped pizza, Pink rissotto with beetroot chips, Red velvet mini naked cake & Red velvet cookie are enough to set the mood this day of love. So what are you waiting for? Get ready to slip in and get your cameras ready to capture some lights, camera, and action-worthy moments with your partner at the cozy, pleasant, and aesthetic all-day deli & bar!
Azule, Goa: Azule Valentine's menu offers a wide selection of delectable salads, starters, mini pizzas, and main courses for both vegetarian and non-vegetarian lovers. For dessert, you can indulge in a decadent Pavlova topped with crunchy dehydrated rose petals, a rich chocolate brick raspberry sorbet, or the classic tiramisu. To complete the perfect evening, you can even sip on a selection of exquisite wines and cocktails as you bask in the beauty of the stunning sunsets.
Taftoon, Bkc and Powai: Take your loved ones on The special Grand Trunk Road Love Journey this Valentine's Day at Taftoon. Taftoon's Valentine's menu includes plenty of exotic meals to pamper your loved ones. Start your Valentine's Day celebration with a delicious Strawberry and Cherry Tomato Shorba. For starters, try the Kashmiri Taftoon Pe Harissa or the mouthwatering Galauti Kebab, among other options. For mains, you can choose two from the Valentine's menu and pair them with Signature Taftoon Breads. For dessert, surprise your special someone with a Fruit Salad & Honey Toast or Panacotta, Shufta, or Jaggery Rasgolla.
Millo, Lower Parel: Are you a vegetarian still looking for a place that lets you indulge in finger-licking vegetarian and vegan delicacies that instantly win your heart? Enjoy a Valentine special night with your partner with a specially curated cocktail, Pink Fiesta, toothsome vegetarian dishes, a small complimentary cake, and amazing table décor on this big day.
Oleander Farms: Escape the ordinary at a nature getaway destination with your partner to unwind with luxurious amenities at your fingertips. Isn't it exciting? Spend your Valentine's with your partner at Oleander Farms, a luxurious resort located in Karjat, Mumbai. Located within the confines of the city, this place is where one can feel one with nature, in the midst of lush greenery, streams, lakeside, mountains, and so much more. This Vday you can enjoy a Valentine special memorable Lakeside dinner 5 course meal with wine pairing and also a complimentary wine tasting for all room guests. So, what are you waiting for? Rush to Oleander & make our Valentine's a memorable one!
Shy, Chembur: What can be a better place to celebrate Valentine's than a newly opened cafe? Shy, an experiential brand new all-day cafe and bar in the eastern neighbourhood of Chembur is all set to make your Valentine's special. Each location is lit with gentle lights and made as comfortable and velvety as possible with charming cushions. Sterling Pearl, Chocolate Moonshine, Apple-bea, Elixir are their in-house concoctions that you can not miss out on.
All Saints, Mumbai: Treat yourself to a special Valentine's Day feast at All Saints. Adorned with ornate decorations, hearts cascading from the ceiling, candles and flowers adorning each table, and a floral box, All Saints completes the atmosphere. You even get to Indulge in the special Cupid Saint-Valentine's Menu featuring the fresh Ricotta & Strawberry Rose Petal Bloody Orange Salad with Roquette Leaves, Feta Cheese, Strawberries, and Rose Petals tossed in Gulkhand Dressing. For appetizers, they have Thai Pattaya Paneer or Korean Fried Chicken, sliced chicken tossed in a spicy Korean sauce. For mains, you can enjoy the Spinach Artichoke Ricotta Rotolo served with Gorgonzola Creamy Roasted Tomato Salsa, Beetroot & Green Pea Risotto with Goat Cheese Crumble, Parmesan Crusted Chicken with Charred Broccoli and Roasted Potatoes with Chicken Jus. Finish off your meal with their decadent desserts: Red Velvet Swiss Roll served with Almond Ice Cream and Saffron Cream, or Shrikhand Panna Cotta with Passion Fruit.
Demy, Lower Parel: Nothing compares to having a scrumptious meal at this elegant all-day café, which has good vibes, superb cocktails, and excellent food in store for you. Jalapeño Cream Cheese Roll, Pink Eggs Benedict, Demy Signature Avo Toast, California Love Salad, Pancakes Stack, and Pink Panna Cotta are a must-try Valentine special at this European café with a tropical vibe café.
The Sassy Spoon & Sassy Teaspoon, Powai & Nariman Point: Done and dusted with dinner? Then try out Love Bites with heart-shaped macarons with raspberry jam and dark chocolate ganache, Berry Valentine with a heart-shaped chocolate cake and strawberry compote, Belgian chocolate ganache & chocolate mousse, among others. Apart from desserts, they also have Sassy Cocktails which includes Love Potion, Spicy Sweetheart, Cupid's Arrow, Menage a Deux & La Dolce Vita.
Bayroute, Lower Parel, BKC, Juhu, and Powai: Treat your loved ones to an exotic meal this Valentine's Day at Bayroute! Bayroute's minimalistic Middle-Eastern ambience sets the perfect mood, with a special touch of great cuisine, live music, top-notch service, and a breathtaking dining experience. Enjoy a delicious meal made with ancient recipes, authentic ingredients, and lots of love, accompanied by live music. To make your Valentine's Day even more special, patrons can indulge in a complimentary heart-shaped strawberry cheesecake dessert. Make this Valentine's Day one to remember at Bayroute!
Balmy, Cumballa Hill: The first big date night of 2023 is coming up! But it happens to fall on a Tuesday. Balmy has dedicated an entire week for you to enjoy and commemorate this wonderful occasion. Interior uplifts, a special menu, and just the right balance of music and lighting to set the mood are a few of the special things they've got planned for you and your boo! A few highlights are specially curated cocktails like the V-Day Saga (Vodka based), Lost on Love Island, Sweetheart Sunset Sangria, Hearts on Fire, The Flirtini, & more. Block your dates for 10th to 16th Feb to raise a toast to love at Balmy!
Occo: Nestled right next to the beach, OCCO is the perfect place to relax, enjoy delicious food and drinks, and strengthen relationships this Valentine's Day. Visitors can enjoy live acts like percussionists, and performances from saxophonists, while sipping on a selection of festive red-themed concoctions like Love Potion, Midnight Temptation, Lady in Red, Sexy Lady, and Valentine's Date. Make this Valentine's Day one to remember and come to OCCO for an unforgettable experience!
HOM, Powai and Bandra: If you and your partner have a sweet tooth, make sure to relish on the decadent Dark Chocolate and Raspberry Mousse with raspberry sorbet, honeyed, or go for a moist Darsaan with vanilla ice cream. There's also the breathtaking Sticky Toffee Pudding with caramel sauce, vanilla ice cream, and candied ginger you shouldn't miss this Valentine's day.