Benefits of Walnuts: Nuts are one of the healthy superfoods one may include in their diet. Walnuts, amongst many, has some benefits for the skin as well.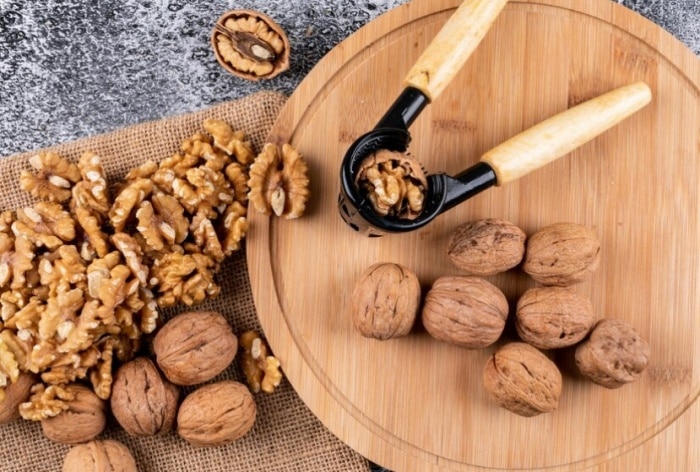 Benefits of Walnuts: Nuts are one of the healthiest foods that one can include in their diet amongst this array of nuts is walnut. Another nutritious food that offers a bouquet of health benefits. From Skin, and hair to overall health, walnuts have benefits for almost everything. It has proteins, fiber, vitamins and minerals. The rich source of unsaturated fats makes walnut beneficial for heart health and more. Apart from these checks why it should be in your diet, there are a few of the benefits that can help us keep your skin healthy too. A handful of nuts a day can succour to keep your skin vibrant and glowing. While many of us usually talk about how many health benefits it has, not many are aware about how good it can be for the skin.
NDTV food, reported that according to "Journal Of Food Science And Technology, walnuts are among the richest sources of omega-3 and omega-6 unsaturated fatty acids. Both the fatty acids, when consumed in right amount, help prevent skin inflammation and related problems."
Walnut Benefits For Skin
Blood Purification: It is rich in antioxidants that help flush toxins and neutralises free radicals in the body. Walnuts also help with other skin problems like pimple break out or acne.
Good For Skin Moisturising: How do walnuts help with moisturising skin? Because these nutty delights are packed with vitamin E and vitamin B5, it helps to keep healthy and hydrated from the inside. It also prevent clogging of pores.
Dark Circles: Another growing problem is sitting in front of the screens for long hours straight. these not only tire our eyes but also create dark circles under the eyes. And here is where walnuts once again come to the rescue. These have certain calming properties that may help with reducing dark circles and refresh the skin as well.
Glowing Skin: The antioxidants in walnuts first of all help keep skin hydrated and healthy. The vitamins present further reduce the formation of dark patches and pigmentation. therefore, all the benefits combined helps to make the skin glow from within.
Also, it is important to note that excess of anything is bad. Therefore, one must consume walnuts as per their body requirement. consult professional before if to get appropriate advise.
Time to include 4-5 walnuts in your diet from tomorrow!
Disclaimer: This is just an article with generic information and is no substitute to professional advise. 
$(document).ready(function(){ $('#commentbtn').on("click",function(){ (function(d, s, id) { var js, fjs = d.getElementsByTagName(s)[0]; if (d.getElementById(id)) return; js = d.createElement(s); js.id = id; js.src = "https://connect.facebook.net/en_US/all.js#xfbml=1&appId=178196885542208"; fjs.parentNode.insertBefore(js, fjs); }(document, 'script', 'facebook-jssdk'));
$(".cmntbox").toggle(); }); });



Source link