Valentine's Day 2023 beauty tips: Trust your beauty expert Shahnaz Husain to make your life easier with quick masks, cleansers, and scrubs at home to provide some extra glow to your skin.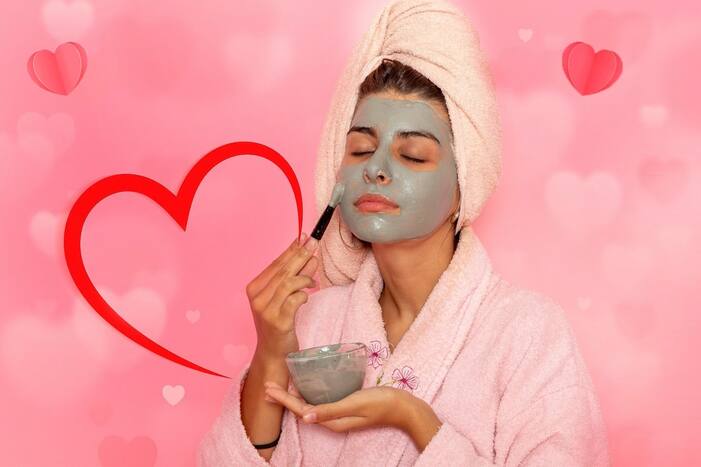 Valentine's Day 2023: Valentine's Day is around the corner and it's time to put the glow back on your skin! A 'pick-me-up' face mask can leave your skin clean and glowing. Mix honey with egg white and apply it on the face. Wash off with water after 20 minutes. For dry skin, you can also mix half a teaspoon of honey, one teaspoon of rose water, and one teaspoon of dried milk powder. Mix into a paste and apply on the face. Remove after 20 minutes with water.
VALENTINE'S DAY 2023 BEAUTY SPECIAL: HOME-MADE FACIAL SCRUB
Use a facial scrub. It can work wonders on the skin, helping to remove dead skin cells and making the skin brighter. Make a facial scrub with walnut powder and one teaspoon each of honey and curd. Apply the mixture to the face and leave it on for a few minutes. Then, rub gently, with small circular movements, washing off with water.
VALENTINE'S DAY 2023 BEAUTY SPECIAL: FRUIT PACKS
Fruit packs are great for adding radiance to the skin. They can also be applied daily. Mix grated apples with ripe papaya pulp and mashed banana. Yogurt or lemon juice can be added to the mixture. Apply it on the face and leave it on for half an hour. Wash off with plain water. It not only adds a glow but also removes tan and softens the skin.
HOW TO MAKE A FRUIT MASK FOR THE FACE AT HOME?
For the face, you can also mix a mask at home. Mix two teaspoons of oats with one teaspoon each of ground almonds, curd, honey, and rose water. Mix everything together into a paste and apply on the face, avoiding the lips and area around the eyes. Wash it off after 30 minutes.
STEP-BY-STEP GUIDE TO MAKE CLEANSING MASK AT HOME
Or, try a quick cleansing and tan removal mask, by mixing cucumber and papaya pulp with one teaspoon yogurt, one teaspoon honey, 3 teaspoons oats, and one teaspoon lemon juice. Leave it on for half an hour and rinse it off with water. It leaves the skin very soft and radiant.
After removing the masks, apply a cold compress on the face with chilled rose water and cotton wool pads, to add a glow and refresh the skin. Wipe the face with it and then pat briskly. For dull and tired eyes, dip cotton wool pads in rose water and use them as eye pads over closed lids. Lie down and relax for 10 minutes. It helps to remove fatigue and brighten the eyes. The fragrance of rose has a calming effect on the mind.