Kareena Kapoor's latest gym video encourages fans to stay fab and fit like her this weekend.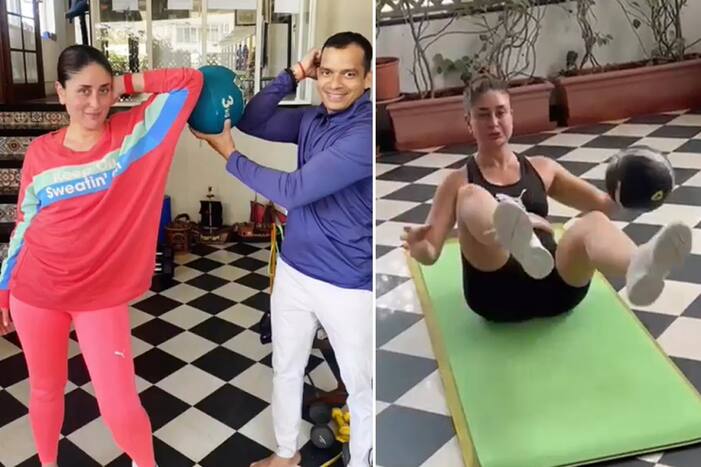 Kareena Kapoor is a fitness enthusiast. The diva's dedication towards fitness is always something her fans aims to achieve. From strength training to intense cardio's, Bebo performs it all with utmost dedication and hard work. Even her latest gym video on social media encourages fans to adopt healthy lifestyle and stay fab like her this weekend.
On Saturday, Kareena Kapoor's trainer shared a video of her performing an intense workout at her home in Mumbai. The video features several posts and pre-workout post of Kareena. She did two exercises – a variation of the Medicine Ball Leg Rotation and Medicine Ball Leg Raises while holding a Barbell. Kareena's performed this hardcore workout with a medicine ball. Check out the clip below.
Kareena Kapoor's Hardcore Workout Training With Medicine Ball:
Benefits of Medicine Ball Training
The medicine ball is an excellent piece of equipment widely used in both home and commercial gym. It provides excellent benefits to users and helps to work the whole-body muscles to gain strength, cardiovascular endurance, and weight loss. Some more benefits of medicine ball are:
Improves the ability to recover from injury
Get well-defined abs
Get optimal physical preparation
Improves coordination and power
Corrects body posture
Builds body strength
What do you think of Kareena Kapoor's Latest workout video? Inspired much?