Ever since Alia Bhatt recently opened about her journey with 'Mom's Guilt' people have started taking it seriously, for the better. But it is not as easy for everyone.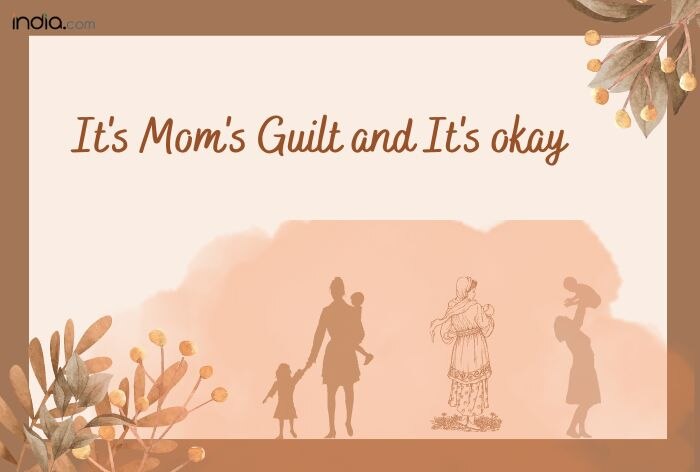 How much is too much? or, is it enough? No, a mother's nurturing, a mother's love can never be enough. It is a pure perennial emotion that is irreplaceable. Mother's themselves strive for being their best self for their kids and for their families. Overtly or not, society perpetuates the schema that mothers have this unsaid burden to be perfect at everything. Look after their children, and family and prove herself at work too. And this said or unsaid, things become burdensome. While motherhood is a beautiful journey of love, compassion and sacrifices, new moms especially undergo a lot of changes. From pregnancy to post-partum, the journey is nothing short of a roller coaster ride brimming with changes-physical, mental and emotional. And whilst this burden to work and compensate for the time lost, mothers, especially new mothers get anxious and become guilty of leaving their little ones behind. And this is called ' Mom Guilt.' No, this is not just another gen z vernacular or an Insta vocabulary trend. Mom's guilt is real.
From celebrities to non-celebrity mothers, everyone can relate to it. Multitasking through the multiple roles mothers play, at some point they feel too stretched from both personal and professional ends and seemingly go through this myriad of emotions.
WHAT IS MOM'S GUILT?
Dr Rituparna Ghosh, Clinical Psychologist, at Apollo Hospitals Navi Mumbai says, " Mother's guilt is not a clinical term but it is real as mothers are definitely getting into a sense of guilt for a wide variety of reasons. All the time we expect mothers to fit into a pre-defined role, we expect them to perform a lot of responsibilities. The moment they feel they are unable to perform those duties and responsibilities, they feel worthless, hopeless, and helpless. It is as if the society bestows to take care of them because they are "mothers". And this gets burdensome."
Speaking of new mothers joining after maternity leave, they have pressure to perform better prove. It is like compensating for the lost time. Speaking exclusively with India.com, Carina Kholi, Founder of Humm Care said, "Currently corporate healthcare includes general health insurance, and for working parents, it includes 6 months of maternity leave and on average 15 days of paternity leave. A mother after giving birth experiences significant physical, mental and emotional changes that impact her health to a great extent. A new mother and parent require as much health care and support as the newborn baby does. Typically, organisations in India do not offer specific healthcare and holistic support for a new mother on her return into the workplace."
DO MOTHERS BECOME NEGLECTFUL OF THEIR CAREERS?
Adding further, Kohli said, "The challenge of managing motherhood and a career is not India specific, and women are not "neglectful" of their careers after becoming mothers. This is circumstantial and dependent on scenarios, resources, opportunity and various other diverse factors.
Research has shown that 73% of women in India quit the workforce by age 30 to start or raise a family and from those that return post the birth of their baby, 48% of them quit again within 4 months due to lack of support in the workplace. The India Inc. workforce consists of only 26% women, and the overall workforce in India consists of only 19% women, added Kohli.
A MOTHER'S CONFESSION ON MOM GUILT
Recently, the hullabaloo around mom guilt rose after Alia Bhatt's interview with Vogue India. During the interview, the Brahmastra actress said, " But there is still a healthy amount of mom guilt." She said, "It does make me anxious to think whether I am doing right by my baby and work. There's so much pressure on women to ace both…almost like this old-school dogma that once you have a baby, you have to martyr your career or you're not a model mum. It's very important for new mothers to get that time off work to gather their bearings, and it's equally crucial for corporations and industries to grant them that time instead of writing them off."
But this is no celeb problem, it happens with several mothers. " During work, I sometimes think if my daughter ate her food, hope she is ok, hope I did not miss any of her firsts etc. These thoughts make me anxious and I feel I am not doing enough as a new mother. I know it is ok, but it is difficult to explain the struggle that goes on inside my head. It does feel like guilt," said a high school teacher at DPS GBN who wanted to remain anonymous.
Bumble's CEO, Whitney Wolfe Herd shared her thoughts on mom guilt too. She says, "Navigating parenthood and a career is challenging, no matter what support you have in place. I always want parents to be able to prioritise their children's well-being and I never want them to feel like they have to choose one over the other. I don't think that's a fair position to put anyone in. Women and mothers cannot create a more equal, less guilt-ridden experience by themselves. There needs to be tangible change and structures to support a truly equitable vision of parenthood. This can look like flexible work policies, support groups for working parents and generous leave policies beyond birth. If you're not sure how to help, just ask the parents in your office!"
HOW TO MANAGE AND HELP WITH MOM'S GUILT?
Give them ample of emotional support. Help them and teach them to maintain a proper work-life balance.
Mothers should learn to unplug when they come back from work.
while at work, focus there and do not try to be at all places at once.
Take one thing at a time. Understand and emphasise that even if they miss out on something, it is ok. They do not have to take shoulder all the burden.
Not to forget to take care of their own wellness, body and mind.
Take out time for their own hobbies and activities. It will help to maintain balance and take care these are some ways that can help a new mother and a new parent navigate parenthood in a proactive and effective manner.
A conducive and supportive environment is important for mothers to deal with this guilt. Caregivers, family members and partners should pitch in with their bits to make mamas feel alright. It is ok and we are here for them- that should be the motive.
To all those moms out there, it is ok to feel this guilt but you must also make time for yourself to manage it!
Happy Mother's Day to all strong Mothers!
$(document).ready(function(){ $('#commentbtn').on("click",function(){ (function(d, s, id) { var js, fjs = d.getElementsByTagName(s)[0]; if (d.getElementById(id)) return; js = d.createElement(s); js.id = id; js.src = "https://connect.facebook.net/en_US/all.js#xfbml=1&appId=178196885542208"; fjs.parentNode.insertBefore(js, fjs); }(document, 'script', 'facebook-jssdk'));
$(".cmntbox").toggle(); }); });



Source link