Former India International Nidhi Buley And Sister Ritka Among Four Females To Enter BCCI Umpiring Panel
4 min read
Nidhi played a Test and ODI for India back in 2006 while her younger sister Ritika represented Madhya Pradesh in 31 First-Class games.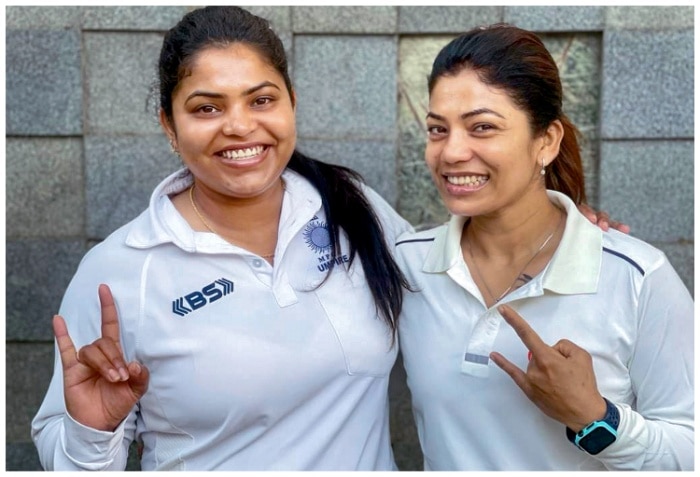 New Delhi, Jul 26: The Indore-based Buley sisters, Nidhi and Ritika, are among the four retired female cricketers who have made their way into the BCCI umpires' panel with a distinction.
Nidhi played a Test and ODI for India back in 2006 while her younger sister Ritika represented Madhya Pradesh in 31 First-Class games.
The BCCI conducted the exam for retired cricketers from June 10-13 and the result was declared on Wednesday.
Candidates needed to score more than 120 marks out of 150 to make the cut and both Nidhi and Ritika cleared the exam with flying colours, amassing 133.5 and 133 marks respectively. .
V Kritika from Tamil Nadu and Ankita Guha of Vidarbha were the other females who were elevated to the BCCI panel, taking the overall number of BCCI-empanelled women umpires to seven.
Nikhil Patil of Mumbai Cricket Association topped the exam with 147 marks.
Born into a sporting family, both Nidhi and Ritika want to represent India in the umpiring world for different reasons.
The elder sister did not have a long career for India and missed out on playing at the hallowed Lord's while Ritika, who could not reach the highest level as a player, wanted to enter the big club as a match official.
Their inspiration is another Indore-based cricketer turned umpire, Nitin Menon, who is the only Indian in the ICC elite panel..
"As a player, I could not play at Lord's. We had a game there on the England tour in 2006 but I was not in the playing eleven. If I can umpire at Lord's that will be a dream come true for me," said the 36-year-old left-arm spinner, who played her only Test in Leicester under the captaincy of Mithali Raj.
In Nidhi's growing up days, women's cricket did not have enough money and players had to fund their own travel.
Having seen the massive change herself as an MPCA umpire at the grassroot level, Nidhi feels the sport has undergone a huge transformation.
"The BCCI has supported us a lot. It is after a long time retired cricketers are entering the umpiring space. The board wants to promote female umpires and bring them at par with men. It wants to treat them equally.
"In my playing days, even getting to practice with the male players was a big deal. I hope I get to officiate in men's matches which will be a big challenge," said Nidhi, who admired New Zealand left-arm spinner Daniel Vettori in her playing days.
Earlier this year, the trio of Vrinda Rathi, N Janani and V Gayathari made history by becoming the first-ever women umpires to officiate in the prestigious Ranji Trophy.
The 31-year-old Ritika also wants to umpire in both men and women games and climb to the highest level..
"As a player, I could not represent India, umpiring is the only way I can realise my dream," Ritika, who was a wicketkeeper batter, told PTI.
Playing the game is hard but the journey of an umpire is no walk in the park either..
"I used to stand behind the stumps and wonder how the umpires go about their job and count six balls. I understood that when I became an umpire myself. As players we don't know much about the laws of the game. It is only when you study you realise you did not know so much about the game.
"The curiosity kept on increasing and I left the game in 2020 after clearing the MPCA umpiring exam," she said.
Umpiring has now become a financially secure profession but Ritika was never in it for the money.
"Money was never a factor for me. I just want to be involved in the game after spending the majority of my life playing the sport.
"There were no job opportunities for players back then. We were depending on match fees which was not enough and I had to ask my parents and that was not a great feeling," she recalled the support from her parents who were into government jobs.
Umpiring remains a male dominated territory and Ritika hopes for a change in the foreseeable future.
"It is a big challenge (working in a male dominated profession). Even at the state level, all umpires were men. There was just one female umpire who too switched to another state. It was very challenging but I got a lot of support from MPCA," Ritika added.
Nidhi, on the other hand, had moved to Jharkhand from MP in her playing days and represented the former while appearing for the umpiring exam.