Babar Azam Almost-in-Tears PIC Goes VIRAL After Pakistans Heartbreaking Loss vs Sri Lanka in Asia Cup 2023
2 min read
Asia Cup 2023: Despite the shock exit, Pakistan would be one of the strong contenders at the ODI World Cup.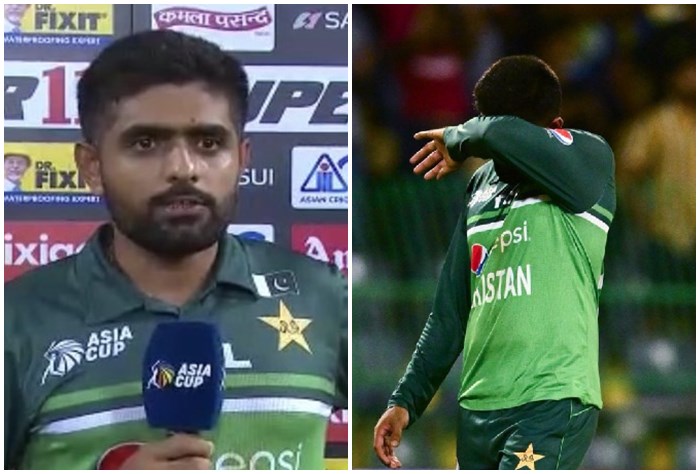 Colombo: It was a heartbreaking loss for Pakistan against Sri Lanka on Thursday in a Super 4 Asia Cup match in Premadasa in Colombo. It was a truncated 42-over game that went right down to the wire before Sri Lanka held their nerves to emerge on top and make it to the final of the Asia Cup. Pakistan, who walked into the game as favourites were left stunned following the loss. Captain Babar Azam was almost in tears after the loss. He nearly choked while speaking during the post-match presentation and pictures of that moment is now circulating on social space. Here are the pictures and some of the comments.
No one will fuckin criticise our players after today's loss. They tried their level best to win the match and went till the last ball. They are more heart broken than us. Look at Babar Azam's eyes he has tears. Please support them in these times❤️#BabarAzam #PAKvsSL pic.twitter.com/8FGwbIjmtV

— Muhammad Rayham| BA56 Stan✨️ (@56rayham) September 14, 2023
Tears in Babar Azam eyes so painful #BabarAzam #PAKvsSL #AsiaCup2023 #PakvSL #SLvsPak #AsiaCup #SLvPAK #Cricket #PakistanCricket #CricketTwitter #colomboweather #PakistanCricket pic.twitter.com/mtE0yi88z9

— Haider Safdar (@BhaiiiHaider) September 14, 2023
You can see how hard Babar Azam is trying to hold back his tears 💔#PAKvSL | #PAKvsSL #SLvsPak #SLvPAK #PakvsSri #AsiaCup2023 #AsiaCup23 #AsiaCup #PakistanCricket #colomboweather #Cricket #CricketTwitter #Pakistan #PakistanCricket #PakistanZindabad pic.twitter.com/Vkvpvx5jnh

— Babar Adeel Hussain (@AdeelHuss1) September 14, 2023
Babar Azam crying is my source of happiness. I live for this day. His tears work as glucose for my body, his screams bring peace to my ears. this is the best scenery I can ever witness.#PAKvsSL pic.twitter.com/M5ObDdjHTH

— Jod Insane (@jod_insane) September 14, 2023
"In the end, we decided to bowl our best bowlers. That's why I decided to bowl Shaheen the second last over and then we believed in Zaman Khan for the final over. SL played really well, they played better cricket than us, that's why they won. We weren't up to the mark with our bowling and fielding, that's why we lost," Babar said at the post-match presentation after the loss.