Babar Azam Is A World Class Player, We Also Admire Him, Says Shubman Gill Before IND Vs PAK Blockbuster
3 min read
Babar Azam is considered as one of the modern-day greats. He has also scored a century in the ongoing Asia Cup 2023.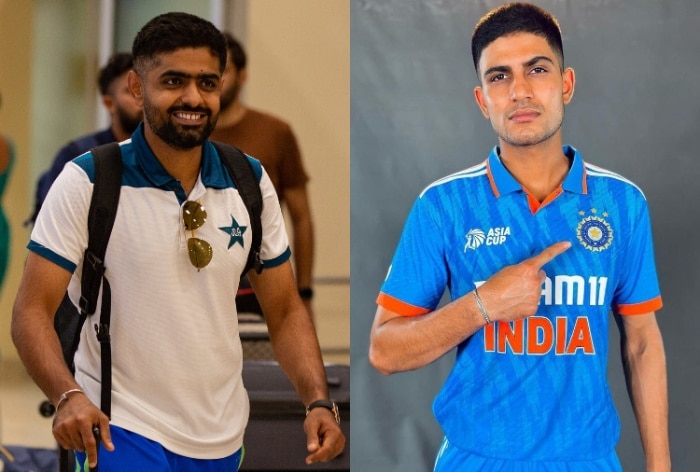 New Delhi: Shubman Gill stated that they have great admiration for Babar Azam, ahead of the high-octane India vs Pakistan Super 4 clash in the Asia Cup 2023 on Sunday. This is the second time India and Pakistan are facing each other in the tournament. The Men in Blue met Pakistan in Group A a weel back but that match was abandoned due to rain.
The Pakistan captain is regarded as one of the modern-day greats alongside the likes of Virat Kohli, Joe Root, Steve Smith and Kane Williamson. Although the right-hander is way behind his peers in terms of numbers, his skillset and temperament make him one of the most sought-after players in the world at this moment.
Ahead of the big clash, India opener Gill revealed that he has only admiration for Babar. "You obviously look at him. You have to see his videos to learn why he's doing so well. He is a world-class player and we also admire him a lot," said Gill during the pre-match presser on Saturday.
Meanwhile Gill, who found Pakistan's pace trio too hot to handle during his painstaking 10 off 32 balls in the group league game, admitted that not facing the Shaheen Shah Afridis and Haris Raufs often, does make a 'difference' during multi-nation events.
The Indian top-order batters have had issues with Afridi's nip-backers and the awkward angles that he often creates and it has got everything to do with unfamiliarity even you have watched thousands of his bowling videos.
"We don't play against Pakistan as often as we do against some other teams. We all know that their bowling attack is quite good and when you don't play against such attacks often it makes a bit of difference in main tournaments," said Gill.
India get to play Pakistan only during Asia Cup or at the ICC events. Gill said that he was also banking on the left-arm throw-down specialist Nuwan Seneviratne to dish out an improved show against Afridi, and in general against Pakistan quicks.
"Definitely (training has helped). He (Nuwan) has been travelling with us for the last 7-8 years. It is nice to have that variation. We have that right-arm specialist (Raghu), the side-arm specialist (Dayannd Garani) and the left-arm specialist.
"It does help in any conditions that you play," added Gill. He then explained why the Pakistan fast bowlers are making such an impact. "They are very different fast bowlers and they have their own specialities. Shaheen gets the ball to swing a lot. Naseem is all about pace and likes help from the wicket. They present different challenges in different conditions," said Gill.
Gill said that Indian batters will have to dominate unlike last time when the top order was blown away for 66. "As openers, we need to make a good start and dominate them from the beginning," Gill said.
"He (Rohit) is someone who likes to take on the bowlers more aerially and I like playing along the ground in the power play. That combination works well for us. We both are a bit different, how we go about our shots and tackle the situations. That makes it a bit difficult for opposition to contain us," said Gill.