Daniil Medvedev Beats Carlos Alcaraz In Semis, To Seal Final Berth Against Novak Djokovic
2 min read
Daniil Medvedev defeated World' number one Carlos Alcaraz in the semi-finals of US Open 2023 and will now face his Novak Djokovic in the finals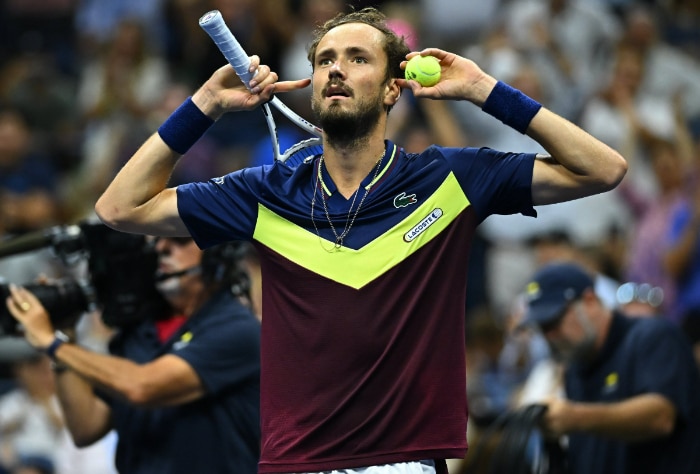 New Delhi: Russia's Daniil Medvedev ended Carlos Alcaraz's hope to claim his second consecutive US Open title after beating him 7-6, 6-1, 3-6, 6-3 in a stunning match in the semi-finals of the US Open 2023 at the Arthur Ashe Stadium, on Saturday. Medvedev will now face Novak Djokovic in the finals of the tournament and will attempt to recreate a victory he had against him in the same competition back in 2021.
Medvedev will once again like to stop Djokovic, who is seeking a record-tying 24th Grand Slam. The Russian earned a famous victory over Novak in the finals of the US Open 2021 and will be looking forward to repeating that feat.
"The crowd was unbelievable. I mean it. I felt love to both sides. 1,000 Spanish guys at 5-3 started screaming between 1st & 2nd serves. That's not so nice. But I guess they were desperate. They can go to sleep now," said Medvedev addressing the crowd after his win over Alcaraz.
"I said I needed to play 11 out of 10. I played 12 out of 10. That's the only way. 2 Grand Slams. World #1. It's unbelievable. To beat him, you need to be better than yourself," Medvedev on his win against Alcaraz.
He also addressed his battle against Novak Djokovic in the finals and said "The challenge is that you play a guy who won 23 Slams. I have only 1. When I beat him here, I managed to play better than myself. I need to do it again. There's no other way."
Earlier, Novak Djokovic defeated young Ben Shelton in straight sets to advance to the final, on Saturday. The star player will be looking forward to claim his record 24th Grand Slam title and also avenge his loss against Medvedev from US Open 2021.