live
TNPL 2023 Auction: Lyca Kovai Kings Rope in Sai Sudarshan For a Record 21.6 Lakhs. Tamil Nadu Premier League – 942 players set to go under the hammer in Mahabalipuram on Thursday, Friday. Check LIVE Streaming details.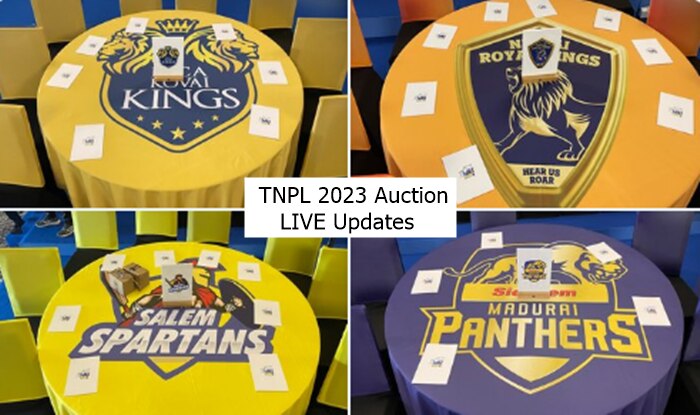 LIVE Updates | TNPL 2023 Auction
So, we are moments away from the start of the TNPL auction. This is the first time there will be an auction for TNPL after six seasons. 942 state players would go under the hammer. The big names at the auction are Washington Sundar, Dinesh Karthik, Sai Kishore, and others. The auction will be held on the 23rd and 24th of February 2023 at Mahabalipuram. As eight teams are preparing for the auction, big names like Ravichandran Ashwin, Narayan Jagadeesan, and Shahrukh Khan have all been retained by their respective franchises.
---



LIVE | TNPL Auction: Former Madurai Panthers captain, NS Chaturved will now play for Tirupur Tamhizans for 8 lakhs. Abhishek Tanwar will ply his trade for Salem Spartans.

LIVE | TNPL Auction: Kaushik Gandhi, Jagganath Sinivas will play for Salem Spartans, R Satish like last year will play for Chepauk Super Gillies, Anirudh Sitaram will ply his trade for Tirupur Tamhizans and Nellai Royal Kings lap up Aswin Crist.

LIVE | TNPL Auction: SOLD!! Sai Kishore goes to Tirupur Tamizhans for 13 lakhs. KB Arun Karthik is lapped up by Nellai Royal Kings, whereas Murugan Ashwin will play for Madurai Panthers.

LIVE | TNPL Auction: All eyes are now on Sai Kishore! Gujarat Titans spinner has gone past 12 lakhs!

LIVE | TNPL Auction: SOLD!! Lyca Kovai Kings lap up Sai Sudarshan for a record 21.6 lakhs!

LIVE | TNPL Auction: The franchises are doing their every bit to get Sai's signature! He has gone past 20 lakhs, which is more than his IPL price. Impressive!

LIVE | TNPL Auction: It was quite expected! Sai Sudarshan is now the most expensive player in the ongoing auction. He has gone past Sanjay Yadav's price.

LIVE | TNPL Auction: It's Sai Sudarshan this time around! Trichy and Dindigul are going after the IPL champion with Gujarat Titans.

LIVE Updates | TNPL Auction: Madurai Panthers till now have the most money left in their purse- 42.35 lakhs. Whereas Chepauk Super Gillies have only 15.6 lakhs left in their bank.