Basketball has always fascinated sports lovers globally.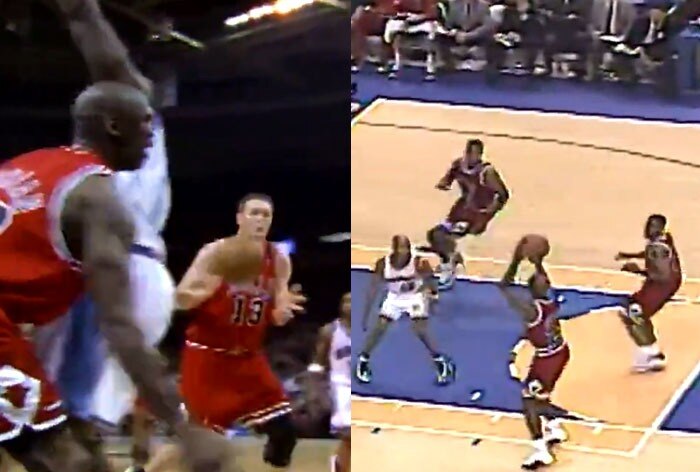 The world has witnessed the art, style, and charm of many athletes and sportspersons belonging to various sports. There is one sport that has always fascinated sports lovers globally and that too in spite of the fact that it is not that much extant in many regions, yet the populace and sports aficionados follow it passionately and also keep a tab on the game and the famous players who have been an integral part of it. That sport is basketball.
Here is a video that shows Michael Jordan in action.
The video is shared on Twitter by The Best @Figensport with the caption, "Michael Jordan……..simply, the GOAT!"
WATCH THE VIDEO HERE
Michael Jordan……..simply, the GOAT! pic.twitter.com/4Uf90ZHPHy

— The Best (@Figensport) May 13, 2023
Michael Jordan is considered the Greatest Of All Time (GOAT) and his popularity cuts across countries and continents, and here in India too he is regarded as a legend.
Fondly called MJ, Jordan earned the nicknames "Air Jordan" and "His Airness" due to his leaping ability as he performed slam dunks from the free-throw line.
No surprise that the video has received a good number of comments. Sharing a few with you.
Dscoduc @dscoduc: I was lucky enough to watch Jordan, Gretzky, and Woods during their prime.  Kids these days just don't understand how great it was during the 90's.
Jack Salmon @seamonkey10: I tell people the same thing.  So lucky to see Jordan play, but yeah Gretzky…scoring a goal with 8 seconds left on a faceoff 🤯…impossible.  All those Tiger shots where he just willed it to go in.  Great time to be alive!
Bob Is Here To Explain @ExplainThisBob: Michael Jordan is the greatest basketball player ever.
Dom @brutusbrandy: No better series than Bulls vs Hawks and than Bulls vs Celtics afterwards.
Swellz Capital @swellzcapital: Total class, legend
HowsTrix 1776 @blake81161: Wow!
Hung Asian 🍆 Jax Solomon: He really was.
iComplex1 @RealiComplex1: Yes he was. Glad to watch him all those years. And not cause I'm a Knick fan 😭 😂
Matt Kapulsky @Mattkapulsky: The best there is , was , and ever will be
CHANCELERSP @chancelersp: SPIDER MAN
TOBY OF LAGOS 🪵@tobydeyforyou: Man is too good
janxon007 @janxon007: indeed !! Mr. IncrediBULL
@Maybe: Jay P. @PRBucsFan: Amen, this generations opinion truly means nothing when it comes to the true GOAT  We got to witness it firsthand They'll never be anyone like him. MJ didn't need 50 years in the league  🤷🏾‍♂️
$(document).ready(function(){ $('#commentbtn').on("click",function(){ (function(d, s, id) { var js, fjs = d.getElementsByTagName(s)[0]; if (d.getElementById(id)) return; js = d.createElement(s); js.id = id; js.src = "https://connect.facebook.net/en_US/all.js#xfbml=1&appId=178196885542208"; fjs.parentNode.insertBefore(js, fjs); }(document, 'script', 'facebook-jssdk'));
$(".cmntbox").toggle(); }); });



Source link