No India Vs Pakistan Bilateral Cricket Unless Cross-Border Terrorism Ends, Says Anurag Thakur
3 min read
The last time India and Pakistan played bilateral cricket was in 2012. Recently, both teams faced off in Asia Cup 2023 and will also do so in the ICC World Cup 2023.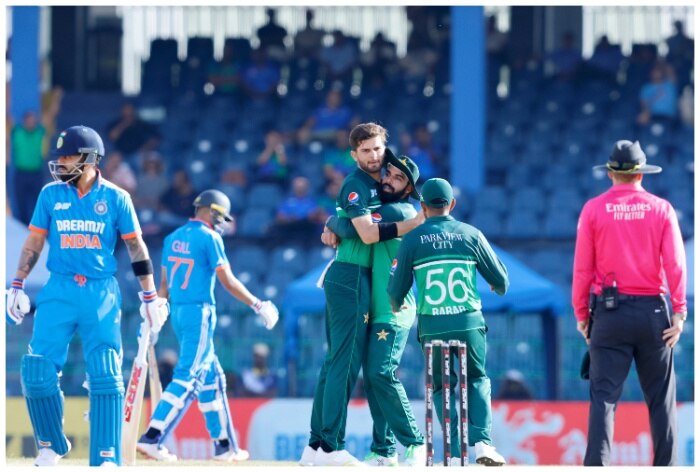 New Delhi: After Pakistan Cricket Board (PCB) chairman Zaka Ashraf said cricket in Pakistan and India will 'grow together', Union Sports Minister Anurag Thakur on Friday stated Indo-Pak bilateral series will continue to remain suspended unless cross-border terrorism ends. India do not play bilateral cricket with Pakistan since 2012 and only meet in ICC and ACC events.
According to Thakur, BCCI has long ago decided that they won't play Pakistan in bilateral cricket series until Pakistan stops infiltration and cross-border terrorism. Thakur's comments come in after three top Army officials were killed during a gunfight with militants recently.
"As far as sports is concerned, BCCI had long before decided that bilateral matches with Pakistan won't be held till they stop infiltration and cross-border terrorism. I think this is the sentiment of every common citizen of this country," Thakur, a former BCCI chief said on Friday.
The Indian cricket team are currently in Sri Lanka playing in the Asia Cup 2023. The Men in Blue defeated Pakistan and Sri Lanka to secure their place in the summit clash to be played on September 17. Sri Lanka, on the other hand, made it to the final after beating Pakistan in the Super 4 stage.
Meanwhile, the Asia Cup 2023 was originally to be held in Pakistan alone. But with BCCI deciding to not send its players to Pakistan citing security reasons, the Asian Cricket Council (ACC) declared Sri Lanka as the co-host. As a result, Pakistan hosted four Asia Cup 2023 matches while the rest are being played in Sri Lanka.
Earlier, BCCI president Roger Binny and vice-president Rajiv Shukla visited Pakistan after an invitation from PCB for dinner. Binny and Shukla were a part of the BCCI delegation that crossed the Attari Wagah border to visit the neighbours.
"It's a great moment. I would like to welcome Roger Binny and Rajiv Shukla to Pakistan. The PCB had invited BCCI for dinner and I would like to say a big thank you to them from the core of my heart," Ashraf had told reporters then.
"In this way, the relationship between the two boards will become stronger. Today they came to Pakistan, someday if BCCI invites us, we will travel to India. Inshallah, we will grow together and Pakistan-India relations will grow," he had added.