Pakistan have won just one Test in their last 10 matches since the start of 2022, including a 0-3 whitewash against England and 0-1 loss against Australia, both at home.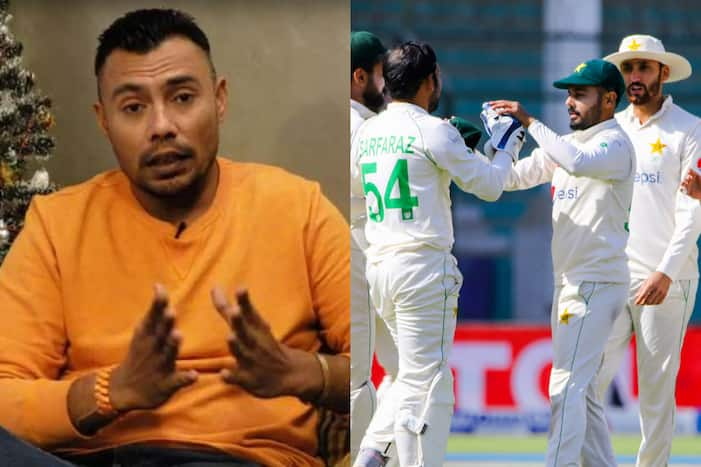 New Delhi: Pakistan Test cricketer Danish Kaneria lashed out on the country's cricket administration for letting them down in the longest format of the game stating, 'They are still playing the cricket of 1970's, 80's'.
Although Pakistan have been doing good in white-ball cricket, their performance in red-ball cricket has gone down relatively in the last one year, winning just one in 10 games. From the start of 2022, Pakistan played eight Tests at home, winning none, drawing four and losing four.
Pakistan's only win since last year came against Sri Lanka in Galle. Kaneria, who has played 61 Tests for Pakistan, opined that the the country's cricket is in total mess and needs to be taken care off immediately if they want to be a force to reckon with.
"Big problem. First, selection. Second problem is we only talk about international cricket coming to Pakistan, teams coming to Pakistan but not winning the game in Pakistan," Kaneria told in an exclusive interaction with India.com and Cricket Country.
"They talked about Australia coming to Pakistan after 17 years and much more, but where is focus on cricket? Zero. You can't prepare a wicket to win you the game," added a disappointed Kaneria.
#LIVE: @DanishKaneria61 reacts on in #ChetanSharmaGameOver case #ChetanSharmaSting #Chetansharma #ChetanSharmaStingOperation #ChetanLeaks #BCCISelectionCommittee https://t.co/L8hfobTWjL

— CricketCountry (@cricket_country) February 15, 2023
While Pakistan cricket reached a new height when the Babar Azam-led side reached the T20 World Cup final last year, they hit rock bottom when they lost to Australia 0-1 in three-match Test series and suffered a complete 0-3 whitewash at the hands of England, both at home.
Pakistan played two more home Tests against New Zealand and drew both to save the face. The losses affected Pakistan's chances at the World Test Championship, as they finished lowly seventh.
"The likes of Australia, England just come and hammer you, just taking away the chance from you in World Test Championship," added the 42-year-old. While barely any batter stood tall against England, none of the Pakistan bowlers looked threatening against the Ben Stokes-led side.
Against New Zealand, Pakistan did improve their performance, but again, failed to lodge a single win in two-match series. "You can't rely on one batter, Babar Azam. Babar is no doubt a great player, Imam-ul-Haq was doing good. But now, do you have a bowler?
"Test matches are always won by bowlers because you have to take 20 wickets. If you dont have the bowler of that calibre who can take you wickets, then no chance. A young chinaman, Abrar Ahmed has come in now.
"Half of his bowling he has done already in four and five Test matches. Look at the amount of bowling he has done so far. But you dont have that off-spinner. Where is Nauman Ali? Do they know how the captaincy work? Do they know which player and which fielder to set up? No fight, nothing," he said.
Kaneria, who have 261 Test wickets, also opined that Pakistan are missing the intent in Test cricket and they need to learn fast how to win games at home. "The standard of wicket you are preparing, it's pathetic, it's below the par.
"That's why Rawalpindi gets zero point. Pakistan team, the intent is not there. They are still playing the cricket of 1970's, 80's. The best part of our bowling is reverse swing and we have lost that. Our graph is going down. Test cricket is the prime pillar of cricket," rued Kaneria.