Unhappy Neeraj Chopra Vows To Take Positives After Finishing Second At Diamond League 2023 Final
3 min read
Neeraj Chopra finished second to Jakub Vadlejch of Czech Republic with a best throw of 83.80m at the Hayward Field in Eugene, USA.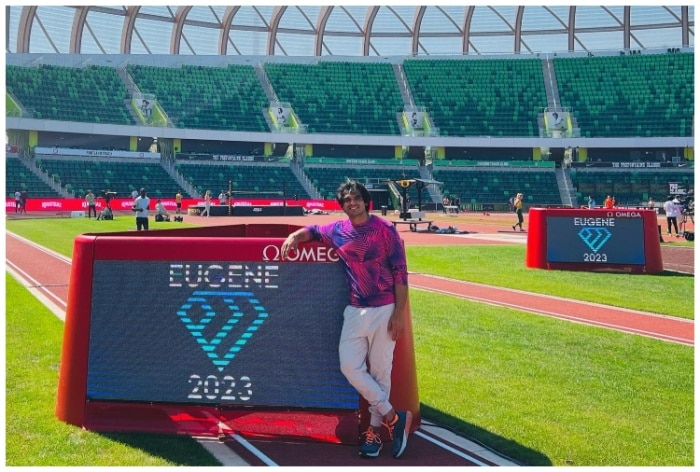 Eugene: Recently-crowned World Champion Neeraj Chopra admitted he didn't perform to his potential as the Indian failed to defend his Diamond League men's javelin throw title after finishing second with a modest 83.80m throw on Sunday at Hayward Field. Jakub Vadlejch of Czech Republic, whom Neeraj beat for both his Tokyo Olympics (2021) and World Athletics Championships (2023) medals, won the Diamond League for the third straight time.
The 25-year-old Neeraj Chopra struggled in the windy conditions in the grand finale as he started with a foul in his first attempt. His best throw of the day came in the second attempt. Neeraj's series read foul, 83.80m, 81.37m, foul, 80.74 and 80.90m.
This was his first below 85m throw of the season. He had qualified for the DL Finals at the third spot. He had won the 2022 Diamond League Finals in Zurich with a throw of 88.44m. "The World Championships was the biggest competition for this year and I am very happy to win gold there.
Interview after competition today ,love the way he answered every question specially the last one 😆❤️❤️🥰🥰#NeerajChopra #DiamondLeague pic.twitter.com/KUJcmwUwcS

— NcStan (@NeerajChopraFc_) September 16, 2023
"I am not happy today with my throw. Position doesn't matter to me but I am not happy with my throw today," a dejected Neeraj said after the event. Asked on what went wrong for him, Neeraj couldn't specify any particular reason. "I don't know actually.
"I didn't feel good in any throw today. I always feel good in warm-up throws but I don't know what happened today. It's okay. It happened after a very long time, other I was very consistence. It will teach me something today," he added.
With the Asian Games looming in horizon, Neeraj will take a week to recover before flying to China to defend his Asian title. "I have one more competition at Asian Games and I will try my best there. I need to recover well first.
"I have been to Budapest, then Zurich and now here. I have been travelling all along. So, one week rest in Europe and then I will be travelling to China for the Asian Games," added the Tokyo Olympics god medallist.
Well played, champ! 🥈👏#NeerajChopra hits an 83.80 meter throw and yet misses 🥇 by a whisker!#JioCinema #Sports18 #DiamondLeague pic.twitter.com/vOEGqHEzFn

— JioCinema (@JioCinema) September 16, 2023
Meanwhile, Vadlejch became the Diamond League champion for the third time with a best throw of 84.24m which came in his sixth and final attempt. He was leading the six-man field from the beginning following his first round effort of 84.01m.
Vadlejch had also clinched the Diamond League title in 2017 and 2018 also. This was the same venue where Chopra had finished second in the 2022 World Championships. The Indian, who has a personal best of 89.94m had become only the third javelin thrower in history to hold both the Olympic and World Championships crowns after winning the worlds title in Budapest with a throw of 88.17m.