Why UFC 294 Is Perfect PPV For Anshul Jubli's Debut? Panelist Somesh Kamra Reveals
3 min read
Indian MMA star Anshul Jubli is set to face Mike Breeden in his debut at the Etihad Arena in Abu Dhabi, on October 21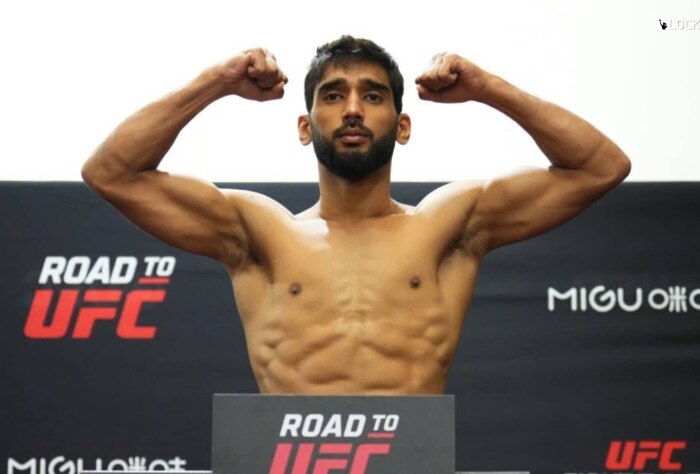 New Delhi: Indian MMA star Anshul Jubli is set to make his much-awaited debut in the Ultimate Fighting Championship with the upcoming PPV of UFC 294 that will be headlined by the Lightweight Champion Islam Makhachev and Charles Oliveira. Jubli recently revealed that he will be fighting Mike Breeden at the Etihad Arena in Abu Dhabi, on October 21.
Jubli (7-0) also known as the King of Lions has always been one of the biggest names in the Indian MMA circuit. However, his popularity reached a whole new stature after his win at the Road to UFC tournament. He defeated Indonesia's Jeka Saragih by a second-round TKO back in February 2023 which earned him a UFC contract and made him the second Indian UFC fighter after Bharat Khandare.
The 28-year-old headlined the Preliminary card of the UFC Fight Night – Lewis vs Spivac and his win in the Road to UFC final made him the first Indian to secure a win inside the UFC octagon. He will now be looking forward to securing a similar victory against Breeden at UFC 294.
UFC Panelist and renowned MMA analyst Somesh Kamra during an exclusive conversation with India.com revealed why UFC 294 is a perfect PPV for Anshul Jubli's debut. The conversation took prior to Jubli's announcement of his next fight.
"We were really hopeful that we could have something in Abu Dhabi, to be really honest, because that's a very good card. And, you know, even if we can slip him into the prelims, I think that would be a very, very good moment for him because, you know, geographically, it's an easier place to travel. The time difference is not that bad," said Somesh Kamra.
"The weather is also good and at the same time, I think he would get a good experience at prime time on Indian television because if I'm not mistaken, that card is going to go live in India on Saturday night at 11: 30 PM. So the prelims would be maybe at about 9, 9:30," The renowned MMA analyst added.
Mike Breeden has a record of 10-6 and is coming off four straight losses. He cannot afford to underestimate a fighter of Anshul Jubli's caliber. Jubli has proven his skillset along with his will to be a champion on the biggest possible stages and will be the man on mission in his UFC debut too.